Albania
Jump to navigation
Jump to search
Albania - Republika e Shqipërisë
Administrative division
Albania is divided into 12 counties, which are further divided into 61 municipalities. As far as I know only some municipalities use logo-type (non heraldic) coats of arms. Below the map of the counties.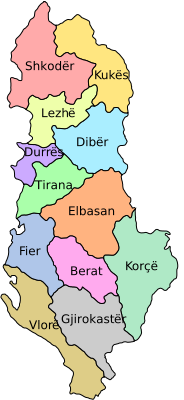 The present counties of Albania.
Heraldry
Albania has no heraldic tradition, therefore only a few towns have a proper coat of arms, and none of the counties has any.
Arms of towns, cities and municipalities
Heraldic collector's items