Armes des Villes de France
Jump to navigation
Jump to search
Armes des Villes de France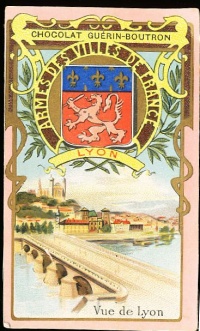 Series information :
Issued by : Many different companies in France
Date of issue : 1920s (?)
Number of stamps/cards : 84
Image variants : Not known, but many differences in texts on reverse
Introduction
This is a large series of trade cards issued in France, showing the coat of arms of cities, with a small city view. The cards were issued as blancs and could be printed by different companies and used as trade cards.
The series consisted of 84 cards with the arms and a view of the capital city of each département at the time.
The series have been issued by at least 15 companies, most based in the North of France, around 1920-25. Many companies used the reverse for advertising, but there are other series in which there is a description of the town as well.
The cards were most likely obtained by buying the product. I only have advertisement material of La Kabiline. This company issued a large poster (57 cm high, approx 1 m wide) in three parts, two parts with the (uncut) cards, the third one with advertisement in the middle. The reverse states that one could obtain the three parts to get the complete series. Unlike the normal cards of La Kabiline, the uncut cards on the poster do not have the advertisement on the reverse.
| | |
| --- | --- |
| The middle part of the poster (part 2) | The left part of the poster (part 1) |
| The centre part of part 2 | The text on the reverse |
Companies
In the table below the companies that are known to have issued these series are listed. Per company there is one example of front and reverse, as well as some minor company information. More images (when known) can be seen by clicking on the name of the company.