James & Co. - Coats of arms of countries
Jump to navigation
Jump to search
Coats of arms of countries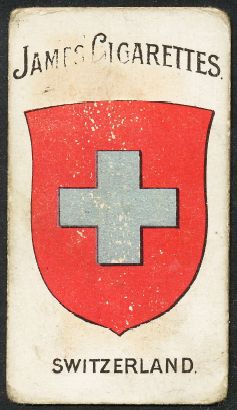 Series information
Series name : Arms of countries
Issued by: James cigarette Co
Date of issue : 1915
Number of cards : 20
Image variants : -
Company
James & Co was a cigarette company based in Birmingham, UK. I have no further information on the company.
Series information
The cards issued have a similar design as used on the EFA Postcards and many Dutch trade card series. Those series also show the flags of the countries, the James' cards only the coat of arms. The other series also have 72 cards, this series only 20. Murray describes the cards as medium sized (80x52 mm), but the cards I know about are standard size (68x40 mm).
A modern reprint series has been published in a larger size.
Reverse: