Arms and Flags (Kraepelien)
Arms and Flags series (Kraepelien & Holm)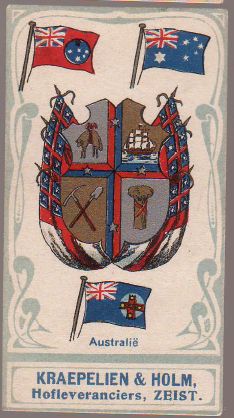 Series information :
Date of issue : 1910s ? (approx.)
Number of cards : 72
Image variants : no, but colour variations in the cards and two backs
Series
This is a large series of trade cards, showing the arms and flags of countries. The series is not dated, but based on the images on the cards, as well as the names of countries, can be dated as <1918. The series was printed in Holland, but the printer, nor the designer is known.
As trade cards the series was issued by a number of Dutch companies :
Some of the series are numbered and all numbered series indicate that 72 cards were issued.
As tobacco cards the series was issued by James in the UK.
As postcards the series was issued by EFA (the Excelsior Fine Art Company) for the UK market and by the Dutch firm Spit & De Vletter as appointment cards.
Company
Kraepelien & Holm was a company based in Zeist, the Netherlands, producing (semi-)pharmaceutical products. According to the cards the company produced asthma-cigarettes, cough- and other pastilles, cocoa surrogates and similar items. At present a company with the same name is based in Oosterwolde, the Netherlands, producing liquorice.
Besides the (early) cards in this series, the company has issued many series with completely different designs, mainly between 1930 and 1940.
Cards
For all known cards see here.
Unlike the cards issued by other companies, there are a lot of variations known in colour design for Kraepelien & Holm. In addition to this, the cards have been issued with two different backs, resulting in a large number of variations in this series.
| | |
| --- | --- |
| Back type 1 | Back type 2 |
All cards, including colour variations:
<gallery perrow=0> File:Abyssinie.kh.jpg|Abyssinië (Ethiopia) File:Abyssinie2.kh.jpg File:Andorra.kh.jpg|Andorra File:Andorra2.kh.jpg File:Argentinie.kh.jpg|Argentina File:Argentinie1.kh.jpg File:Argentinie2.kh.jpg File:Australie.kh.jpg|Australia File:Australie1.kh.jpg File:Beieren2.kh.jpg|Bavaria File:Beieren2a.kh.jpg File:Birma.kh.jpg|Burma File:Birma2.kh.jpg File:Birma2a.kh.jpg File:Bolivia.kh.jpg|Bolivia File:Bolivia1.kh.jpg File:Bolivia2.kh.jpg File:Bolivia2a.kh.jpg File:Bolivia2b.kh.jpg File:Bosnie1.kh.jpg|Bosnia File:Bosnie2.kh.jpg File:Bosnie2a.kh.jpg File:Brazilie.kh.jpg|Brazil File:Brazilie1.kh.jpg File:Brazilie2.kh.jpg File:Brazilie2a.kh.jpg File:Bulgarije.kh.jpg|Bulgaria File:Bulgarije1.kh.jpg File:Bulgarije2.kh.jpg File:Canada.kh.jpg|Canada File:Canada1.kh.jpg File:Channel2.kh.jpg|Channel Islands File:Channel2a.kh.jpg File:Chili.kh.jpg|Chile File:Chili1.kh.jpg File:Chili2.kh.jpg File:China.kh.jpg|China File:China2.kh.jpg File:China2a.kh.jpg File:Columbia.kh.jpg|Colombia File:Columbia1.kh.jpg File:Columbia2.kh.jpg File:Congo.kh.jpg|Congo (Belgian) File:Congo2.kh.jpg File:Costarica.kh.jpg|Costa Rica File:Costarica1.kh.jpg File:Costarica2.kh.jpg File:Denemarken2.kh.jpg|Denmark File:Denemarken2a.kh.jpg File:Duitsland.kh.jpg|Germany File:Duitsland1.kh.jpg File:Duitsland2.kh.jpg File:Ecuador.kh.jpg|Ecuador File:Ecuador1.kh.jpg File:Ecuador2.kh.jpg File:Ecuador2a.kh.jpg File:Egypte.kh.jpg|Egypt File:Egypte2.kh.jpg File:Egypte2a.kh.jpg File:Frankrijk.kh.jpg|France File:Frankrijk2.kh.jpg File:Frankrijk2a.kh.jpg File:Griekenland.kh.jpg|Greece File:Griekenland1.kh.jpg File:Griekenland2.kh.jpg File:Griekenland2a.kh.jpg File:Grootb1.kh.jpg|United Kingdom File:Grootb2.kh.jpg File:Guatemala.kh.jpg|Guatemala File:Guatemala1.kh.jpg File:Guatemala2.kh.jpg File:Guatemala2a.kh.jpg File:Haiti.kh.jpg|Haiti File:Haiti1.kh.jpg File:Haiti2.kh.jpg File:Hessen2.kh.jpg|Hessen File:Hessen2a.kh.jpg File:Honduras.kh.jpg|Honduras File:Honduras1.kh.jpg File:Honduras2.kh.jpg File:Honduras2a.kh.jpg File:Italie.kh.jpg|Italy File:Japan.kh.jpg|Japan File:Korea.kh.jpg|Korea File:Korea2.kh.jpg File:Korea2a.kh.jpg File:Liberia.kh.jpg|liberia File:Liberia2.kh.jpg File:Liberia2a.kh.jpg File:Luxemburg.kh.jpg|Luxembourg File:Luxemburg1.kh.jpg File:Luxemburg2.kh.jpg File:Madagascar.kh.jpg|Madagascar File:Madagascar2.kh.jpg File:Madagascar2a.kh.jpg File:Man2.kh.jpg|Isle of Man File:Marokko.kh.jpg|Morrocco File:Marokko2.kh.jpg File:Meckschwerin.kh.jpg|Mecklenburg-Schwerin File:Meckschwerin1.kh.jpg File:Meckschwerin2.kh.jpg File:Mexico.kh.jpg|Mexico File:Mexico1.kh.jpg File:Mexico2.kh.jpg File:Monaco2.kh.jpg|Monaco File:Montenegro.kh.jpg|Montenegro File:Montenegro2.kh.jpg File:Nederland.kh.jpg|Netherlands File:Nederland2.kh.jpg File:Nederland2a.kh.jpg File:Nicaragua.kh.jpg|Nicaragua File:Nicaragua1.kh.jpg File:Noorwegen.kh.jpg|Norway File:Noorwegen1.kh.jpg File:Noorwegen2.kh.jpg File:Ooshong1.kh.jpg|Austro-Hungarian Empire File:Ooshong2.kh.jpg File:Paraguay.kh.jpg|Paraguay File:Paraguay1.kh.jpg File:Paraguay2.kh.jpg File:Paraguay2a.kh.jpg File:Pausstaat2.kh.jpg|Papal States File:Pausstaat2a.kh.jpg File:Peru.kh.jpg|Peru File:Peru1.kh.jpg File:Peru2.kh.jpg File:Perzie.kh.jpg|Persia File:Perzie2.kh.jpg File:Perzie2a.kh.jpg File:Portugal2.kh.jpg|Portugal File:Pruisen1.kh.jpg|Prussia File:Pruisen2.kh.jpg File:Pruisen2-misdrukvlag.kh.jpg File:Roemenie.kh.jpg|Romania File:Rumenie2.kh.jpg File:Rusland.kh.jpg|Russia File:Saksen.kh.jpg|Sachsen File:Saksen2.kh.jpg File:Saksen2a.kh.jpg File:Sachsenweimar.kh.jpg|Sachsen-Weimar File:Saksenweimar2.kh.jpg File:Saksenweimar2a.kh.jpg File:Sandomingo.kh.jpg|Santo Domingo (Dominican Republic) File:Sandomingo1.kh.jpg File:Sandomingo2.kh.jpg File:Sandomingo2a.kh.jpg File:Sanmarino.kh.jpg|San Marino File:Sanmarino2.kh.jpg File:Sanmarino2a.kh.jpg File:Sansalvador.kh.jpg|San Salvador (El Salvador) File:Sansalvador1.kh.jpg File:Sansalvador2.kh.jpg File:Sansalvador2a.kh.jpg File:Schotland.kh.jpg|Scotland File:Schotland2.kh.jpg File:Servie.kh.jpg|Serbia File:Servie1.kh.jpg File:Servie2.kh.jpg File:Siam.kh.jpg|Siam (Thailand) File:Spanje.kh.jpg|Spain File:Spanje2.kh.jpg File:Spanje2a.kh.jpg File:Tunis.kh.jpg|Tunis File:Tunis2.kh.jpg File:Tunis3.kh.jpg File:Turkije.kh.jpg|Turkey File:Turkije1.kh.jpg File:Turkije2.kh.jpg File:Turkije2a.kh.jpg File:Uruguay.kh.jpg|Uruguay File:Uruguay1.kh.jpg File:Uruguay2.kh.jpg File:Venezuela.kh.jpg|Venezuela File:Venezuela1.kh.jpg File:Venezuela2.kh.jpg File:Vs.kh.jpg|USA File:Usa1.kh.jpg File:Usa2.kh.jpg File:Wales2.kh.jpg|Wales File:Wurtemberg2.kh.jpg|Württemberg File:Zweden.kh.jpg|Sweden File:Zweden1.kh.jpg File:Zweden2a.kh.jpg File:Zwitserland2.kh.jpg|Switzerland File:Zwitserland2a.kh.jpg </gallery