Arms and Flags (Van Dijk)
Arms and Flags series (Van Dijk's)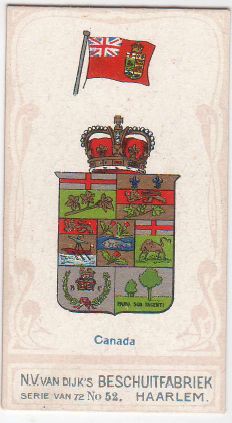 Series information :
Date of issue : 1910s ? (approx.)
Number of cards : 72
Image variants : Some colour variants.
Series
This is a large series of trade cards, showing the arms and flags of countries. The series is not dated, but based on the images on the cards, as well as the names of countries, can be dated as <1918. The series was printed in Holland, but the printer, nor the designer is known.
As trade cards the series was issued by a number of Dutch companies :
Some of the series are numbered and all numbered series indicate that 72 cards were issued.
As tobacco cards the series was issued by James in the UK.
As postcards the series was issued by EFA (the Excelsior Fine Art Company) for the UK market and by the Dutch firm Spit & De Vletter as appointment cards.
Company
Van Dijk's was a company based in Haarlem (Schoten), the Netherlands, producing 'beschuit', a type of Dutch toast. I have no furter information on the company.
Cards
For all known cards see here.
Unlike the series issued by the other companies, there is no text on the reverse.
Some examples:
| | |
| --- | --- |
| Andorra | Chile |
| Liberia | Monaco |