Aschaffenburg
ASCHAFFENBURG
State : Bayern
Urban district (Kreisfreie Stadt) : Aschaffenburg
Additions : 1855 Nilkheim; 1901 Damm, Leider; 1939 Schweinheim; 1975 Gailbach; 1978 Obernau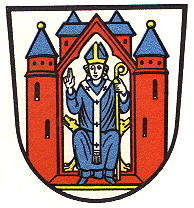 Origin/meaning
The arms of Aschaffenburg were granted in 1836 by King Ludwig I of Bayern.
Aschaffenburg became a city in the 13th century and was one of the main cities in the State of Mainz and a stronghold of the Archbishops of Mainz. The first seals (known since 1236) show an archbishop sitting on a throne in a Gothic piece of architecture. Later seals, dating from the 14th-16th century only show a bishop, not the gate or church. The seals never really changed until the 19th century.
The arms however, changed considerably in the 17th century. In an early 17th century roll of arms the arms of Aschaffenburg are shown as a single cross. In 1633 only a letter A (compare Miltenberg) is shown as arms of Aschaffenburg.
The letter A also appears in a new seal from 1815. In 1836 the old seal was restored and the arms were changed accordingly and thus show the same picture as the oldest seal.

The arms on a municipal stamp (1892)


Seal from around 1900


The arms in the Continentale Verlags-Anstalt album, +/- 1910


Local emergency money from 1921 with the arms of Mainz and Bayern


The arms by Hupp in the Kaffee Hag albums +/- 1925


The arms in the Abadie albums


The arms on a 1960s matchox label
Literature : Stadler, 1964-1971, 8 volumes.