Ath
ATH
Province : Hainaut
Additions : 1977 Arbre, Bouvignies, Ghislenghien, Gibecq, Houtaing, Irchonwelz, Isières, Lanquesaint, Ligne, Maffle, Mainvault, Meslin-l'Evêque, Moulbaix, Ormeignies, Ostiches, Rebaix, Villers-Notre-Dame, Villers-Saint-Amand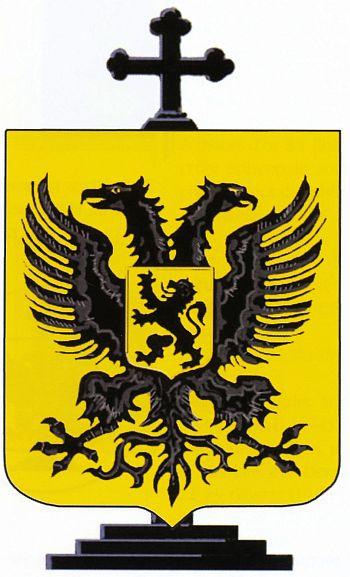 Official blazon
(1818) Van zilver beladen met een schild van goud waarop een dubbelde zwarte adelaar op wiens borst zich bevindende is een schildje van goud waarop een zwarte klimmende leeuw; het schild rustende tegen een bisschopskruis staande op een stoep van drie trappen, alles van zwart.
(1840) D'or à une aigle à deux têtes, de sable, chargée, en coeur,d'un écusson d'or au lion de sable, ayant pour support une crois tréflée de sable posée dur trois degrés de même.
(1979) D'or à l'aigle éployée de sable, chargée dur la poitrine d'un écusson d'or au lion de sable, l'écu posé devant une croix tréflée de sable dressée dur trois degrés de même.
Origin/meaning
The arms were granted in 1818, changed on January 30, 1840. They were not changed after the mergers in 1977 and confirmed on June 8, 1979.
The first seal of the city was mentioned in 1406, as in that year Duke Wilhelm of Bayern, who ruled the city at the time, granted the right to use a seal. The seal has not survived. The seal showed a double headed eagle, over which was shown a large double cross. As an escutcheon a small shield with a lion was used. The whole shield was supported by two lions. The contra-seal of the city, probably granted at the same time, showed a large flowered cross, on which was placed a shield with a double-headed eagle. This composition was also used on later seals, with the small escutcheon placed on the eagle. The lions as supporters were removed when the cross was placed behind the shield. This composition is still used.
Ath was fortified by Emperor Charles V before 1540 and the double headed Imperial eagle may be takes as a symbol of this fact. The small escutcheon is the arms of Hainaut, as originally Ath was founded by the Counts of Hainaut. I have no information on the meaning of the cross.
In 1818 the arms were granted with a non-historical silver bordure, which was corrected in 1840.
Literature : Servais, 1955