Barneveld
Jump to navigation
Jump to search



Het wapen van 1816




Het wapen van 1861

BARNEVELD


Country : Netherlands




Province : Gelderland






Additions:




Official blazon
Dutch

(20 juli 1816) Van lazuur, een kapel op deszelfs terras, het hoofd gericht naar een zon aan de regter bovenkant van het schild, alles van goud.
(25 oktober 1861) Van lazuur beladen en chef met een schildje van zilver met 3 zuilen van keel, en pointe met een begroeid terras waarop eene kapel gekeerd naar het vierde deel eener zon, komende uit den regter bovenhoek, alles van goud.

English
blazon wanted
Oorsprong/verklaring
Het wapen is officieel verleend op 20 juli 1816 en gewijzigd op 25 oktober 1861.
Barneveld was een welvarend dorp geworden, eerst door de schapenteelt, later door de tabaksteelt. Voor de tabaksteelt had men veel schapenmest nodig. In de loop der 17e eeuw werd in het dorp een waag opgericht en een officieel zegel aangeschaft. Op dit zegel werd een afbeelding van de tabaksplant opgenomen.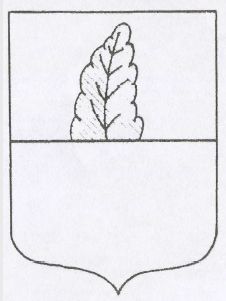 Het ambtswapen uit het zegel (1717)
In de loop der 18e eeuw verloor de tabaksteelt aan betekenis en werd de plant niet meer als zodanig herkend. In 1795 ontstond de behoefte aan een nieuw cq verbeterd wapen. Geheel in de geest der tijd werd een commissie van 2 medeburgers ingesteld om een wapen te ontwerpen. Als verklaring van het ontwerp gaven zij '.. een zoogenaamde pop waaruit een Capel ten deele reeds is voortkomende, waarvan egter nog een gedeelte van de pop bestaat, verbeeldende alzo de Constitutie zo als dezelve nog ten deele bestaat, maar egter reeds een aanmerkelijke verandering heevt ondergaan, welke oude Constitutie van tijd tot tijd meer staat aftenemen, en in een geheel nieuw ligchaam staat over te gaan; dat men al verder een zon daar boven diende te plaatsen om daardoor de verligting aftebeelden.'
De pop werd weggelaten, maar zon en vlinder werden toegevoegd aan het bestaande wapen. De plant werd echter niet meer als tabaksplant herkend en veranderde in een onherkenbare plant op een losse grond. Dit wapen is door de Hoge Raad van Adel later bevestigd voor de gemeente, n.a.v. een tekening van de burgemeester.
In de loop der 19e eeuw werd het revolutionaire karakter steeds minder en kreeg de adel weer haar oude invloed terug. In Barneveld had Baron van Zuilen van Nievelt van de Schaffelaer veel invloed. Hij liet op zijn kosten veel openbare werken uitvoeren in het dorp, zoals de aanleg van wegen. De gemeenteraad (aldus gesteld in het raadsbesluit van 14-8-1861) besloot het wapen van de baron toe te voegen aan het wapen van het dorp. De Hoge Raad van Adel verleende het nieuwe wapen zonder problemen.
Ter gelegenheid van de heringebruikneming van het oude raadhuis in mei 1980 werd door de bouwers aan het gemeentebesluur een in steen gehouwen gemeengewapen aangeboden, waarbij Jan van Schaffelaar als schildhouder aan het wapen was toegevoegd.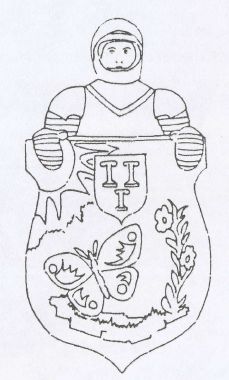 Het wapen met schildhouder
Een andere variant werd in 1983 gemaakt door Lex van den Brink, waarbij de vlinder werd vervangen door een (voor Barneveld kenmerkende) kip.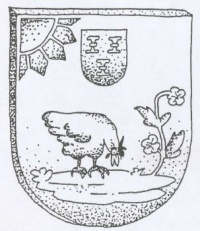 Het wapen met de kip

The main economic activities in Barneveld historically were sheep farming, followed by tobacco culture. As sheep manure was needed for the tobacco, this was a logical combination. The oldest seal of the village dates from the 17th century and showed a tobacco plant. During the 18th century the importance of tobacco decreased and in 1795 a new seal was developed. The new seal was designed by two citizens and showed a composition which was based on the Revolutionary symbolism of the time.
The new composition showed a cocoon from which a butterfly appeared. This symbolised the old constitution being replaced by a new one. Above the cocoon a sun was placed for 'enlightenment of the constitution'. The council finally approved a composition of the butterfly, sun and tobacco plant. However, the plant was not properly described and was shown in the new arms as a non distinctive species.
During the 19th century the revolutionary ideas diminished and the local nobility regained much influence. In Barneveld Baron van Zuilen van Nievelt van de Schaffelaer was very influential and sponsored many public works. In 1861 the local council thus adopted the arms of the Baron as part of the municipal arms.

Literatuur: Mulder-Van Stellendam, 1969; Van den Bergh, 1878, Brochure Gemeente Barneveld
---
Nederlandse heraldiek:
(Dutch only/alleen Nederlandstalig)

Total pages in the Dutch section : 13,220
Total images in the Dutch section : 9,945

Colonial heraldry:
(English)

Dutch heraldic collector's items
(selection, see also categories on the left)
---
Support the site:
Contact us:
Our partners:
---
© since 1995, Heraldry of the World, Ralf Hartemink