Basiliek van de H. Petrus te Boxmeer
Jump to navigation
Jump to search

BASILIEK VAN DE H. PETRUS TE BOXMEER
I : 20 juni 2000
"Doorsneden; I in sabel, shuingekruist, een conopeum van goud, waarvan het scherm gebaand van goud en keel, met volants van hetzelfde, om en om, gevoerd van goud, en een tintinnabulum van goud, waarin een klokje van zilver; II gedeeld; a in goud, schuingekruist, twee sleutels, boven vergezeld van een kelk, alles van keel; b in keel een bok van goud. Devies: JAWEH IS MIJN GOD in zwarte letters op een wit lint."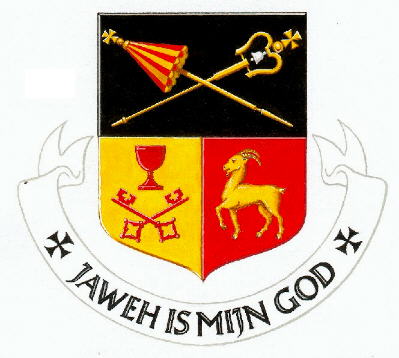 Oorsprong/verklaring
Het wapen bestaat uit de gebruikelijke vormgeving van wapens van basilieken : boven de symbolen van een basiliek, en onder rechts de symbolen van de beschermheilige van de basiliek en links het wapen van de gemeente waarin de basiliek ligt. In dit geval sleutels en kelk voor de H. Petrus. De bok is het wapen van de gemeente Boxmeer.
The arms show the general pattern for arms of churches in the Netherlands; in the upper part the symbol of a basilica, and in the lower half the symbols of the patron saint and (part) of the arms of the town in which the basilica is situated. In this case the crossed keys for St. Peter and the goat derived from the municipal arms of Boxmeer.

Literatuur: -