British Indian Ocean Territory
Jump to navigation
Jump to search
British Indian Ocean Territory
| | |
| --- | --- |
| | |
| The National Arms of the British Indian Ocean Territory | The National Flag |
The British Indian Ocean Territory (BIOT) or Chagos Islands is an overseas territory of the United Kingdom situated in the Indian Ocean, halfway between Africa and Indonesia. The territory comprises the six atolls of the Chagos Archipelago with over 1,000 individual (tiny) islands having a total land area of 60 square kilometres.
The largest island is Diego Garcia (area 44 km2), the site of a joint military facility of the United Kingdom and the United States.
The National Arms of the British Indian Ocean Territory
The arms were granted on ??-??-1990 on the 25th anniversary of the territory's establishment.
The arms show a palm tree and St. Edward's Crown on a base of three white wavy lines representing the ocean, a sun in splendour in the upper-left corner, and the Union Flag in a chief at the top. Two sea turtles are used as supporters (a Hawksbill turtle and a Green turtle), representing the local native wildlife.
The crest comprises a naval crown through which rises a red tower bearing the territory's flag.
The motto is In tutela nostra Limuria, Latin for "Limuria is in our charge/trust". This refers to the non-existent continent of Limuria, once thought to occupy the Indian Ocean.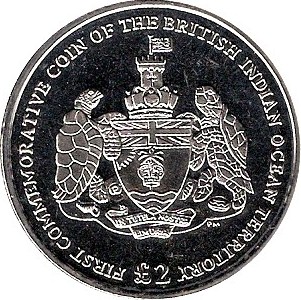 The arms on a coin
Heraldic collector's items from the British Indian Ocean Territory