Brunei
Jump to navigation
Jump to search
Brunei - Negara Brunei Darussalam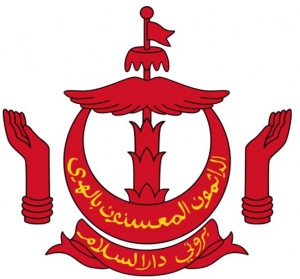 National symbols
Administrative division
Brunei is divided into four districts (daerah):
Belait
Brunei and Muara
Temburong
Tutong
These districts are subdivided into 38 mukims.
None of these actually uses a coat of arms.
National symbol
The national symbol was adopted in 1940.
Th symbol combines the flag, the royal umbrella, the wing, the hands, and a crescent. On the crescent is writing in Arabic script that contain the national motto of: 'Always in service with God's guidance'. Below this is a banner with the name of the nation in Arabic script as Brunei Darussalam or Brunei, land of peace.
The wings symbolize protection of justice and peace. Below these is the crescent that is the symbol of Islam, the national religion of Brunei. The hands symbolize the government's duty to protect the people.