Delfzijl
Jump to navigation
Jump to search
DELFZIJL
Provincie : Groningen
Opheffing : -
Toevoegingen : 1990 Bierum, Termunten
I : 23 juli 1887
" Van lazuur beladen met een anker, hamer en mercuriusstaf van goud en gedekt met een kroon van hetzelfde; schildhouders: rechts het beeld van Mercurius, links het beeld van de nijverheid, voorzien van hamer, rad en aambeeld, alles van natuurlijke kleur."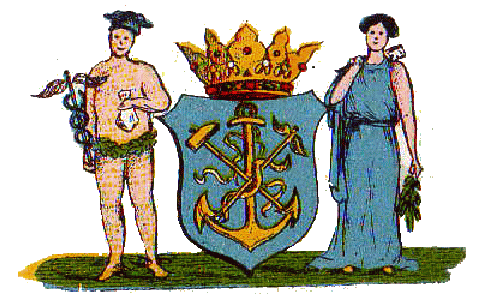 II : 12 januari 1960
" Gedeeld : I in sabel een aanziende gouden harpij, vergezeld in het schildhoofd van 2 zespuntige sterren van hetzelfde, de schildvoet doorsneden van zilver en azuur, het azuur beladen met 2 evenwijdige golvende dwarsbalken van zilver, over alles heen een muur van keel met 3 halfronde openingen, II van goud beladen aan de rechterzijde met 3 onder elkaar geplaatste dolken van sabel, de punten schuinslinks naar boven gericht, en aan de linkerzijde 3 onder elkaar geplaatste horens van sabel, de monden schuinsrechts en naar boven gericht; het schildhoofd van azuur, beladen met 3 naast elkaar geplaatste rozen van goud. Het schild gedekt met een gouden kroon van 5 bladeren en ter wederzijde gehouden door een leeuw van goud, getongd van keel."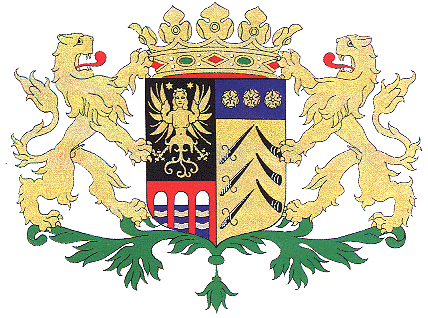 III : 30 mei 1991
" Naar links verschoven en verlaagd gevierendeeld : I in sabel een gekroonde harpij, ter weerszijden van de kroon vergezeld van een ster, alles van goud; II in zilver een schuinrechts geplaatste zadeldaktoren van keel, staande op de doorsnijdingslijn; III in azuur 3 golvende dwarsbalken van zilver en over alles heen een aan alle zijden de kwartierranden rakende muur met 3 halfronde poorten van keel; IV in azuur 3 golvende dwarsbalken van zilver.Het schild gedekt door een gouden kroon van 5 bladeren en ter weerszijden gehouden door een leeuw van zilver, getongd en genageld van keel. "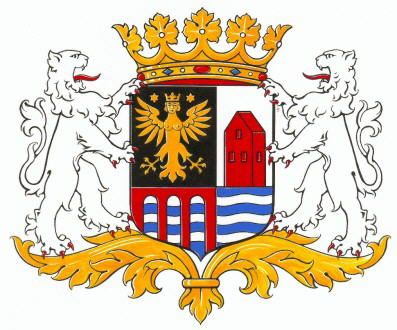 Oorsprong/verklaring
Het oude wapen symboliseert de handel en de scheepvaart, de belangrijkste bronnen van bestaan. Het wapen werd in 1887 ontworpen en had geen historische achtergrond.
Het tweede wapen is opgebouwd uit het wapen van het zijlvest de 3 Delfzijlen, hetgeen bestond uit de poort, vermeerderd met de harpij van Oost Friesland (zie ook Emden). Delfzijl kwam in 1506 onder graaf Edzard Ciksena de Grote van Oost Friesland, die in de stad een vesting liet bouwen. In 1518 werd hij echter reeds verdrongen door hertog Karel van Gelre. De linkerhelft bestaat uit drie rozen in het schildhoofd, en drie dolken en drie hoorns in een gouden veld. Dit is afgeleod van het wapen van het Huis Farmsum. Het huis was in bezit van de familie Ripperda, die diverse dorpen en gebieden in bezit had, die later tot de gemeente Delfzijl zouden behoren. In 1728 zegelde Egbert Rengers, Heer van Farmsum, Siddeburen en onderhorige dorpen, met een zegel waarop een wapenn een gevierendeeld schild, met in I en IV de drie rozen boven en onder een dwarsbalk (het familiewapen Rengers), en in II en III de in het wapen verleende rozen, dolken en hoorns (het oude wapen van Farmsum). Het wapen werd gehouden door twee leeuwen en had als hartschild een korenschoof (het wapen van de familie Tuinga). In het oorspronkelijke voorstel van de gemeente in 1959, werd het geheel geplaatst op een muur, maar de Hoge Raad van Adel gaf de voorkeur aan een arabesk.
| | |
| --- | --- |
| Het zegel van het Zijlverst de Drie Delfzijle | Het zegel van Egbert Rengers van Farmsum |

Het derde wapen is ontstaan na de vereniging van Delfzijl met Bierum en Termunten. In het wapen is het wapen van het zijlvest blijven bestaan, maar is de linkerhelft vervangen door het wapen van Bierum. Door de wat vreemde beschrijving naar links verschoven en verlaagd gevierendeeld is het mogelijk de verschillende stukken zo natuurlijk mogelijk uit te beelden. De leeuwen in het derde wapen zijn afkomstig uit het wapen van Termunten (zie aldaar). De leeuwen zijn echter nu getongd en genageld van keel, de kleur van het veld van het wapen van Termunten. Aangezien twee van de drie gemeenten een kroon op het wapen voerden is deze overgenomen in het nieuwe wapen.
English
The first arms of Delfzijl showed symbols of trade. The second arms are a combination of the arms of the Zijlvest de drie Delfzijlen, a body that controls and regulates the water in the canals and polders around Delfzijl, and the harpy of Ost-Friesland (see Emden). Delfzijl became a possesion of Edzard Cirksena of Ost-Friesland, who built a fortress in the town. In 1518 he was replaced by duke Karel of Gelre. The third arms are a combination of the second arms, together with symbols from the arms of Bierum and Terneuzen, two municiplities that were incorporated into Delfzijl. The tower is derived from the arms of Bierum, the lions from Termunten.

Follow us :



(when sharing images on Instagram, use #heraldryoftheworld)


Literatuur : de Boo, 1993; Sierksma, 1962