Djibouti
Jump to navigation
Jump to search
DJIBOUTI - جمهورية جيبوتي - République de Djibouti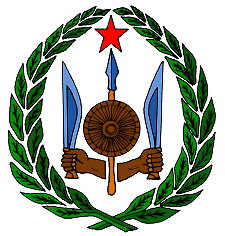 National symbols
Administrative division
Djibouti is sectioned into five regions and one city. It is further subdivided into eleven districts.
The regions and city are:
Ali Sabieh Region (Région d'Ali Sabieh)
Arta Region (Région d'Arta)
Dikhil Region (Région de Dikhil)
Djibouti (city) (Ville de Djibouti)
Obock Region (Région d'Obock)
Tadjourah Region (Région de Tadjourah)
As far as I know none of these uses heraldic arms.

National Symbol of Djibouti
The symbol was adopted on June 25, 1977.

The symbol shows two hands holding each a knife and representing the two ethnic groups in the country, the Afar and Issas.
Other heraldry