Esquimalt
ESQUIMALT
Province : British Columbia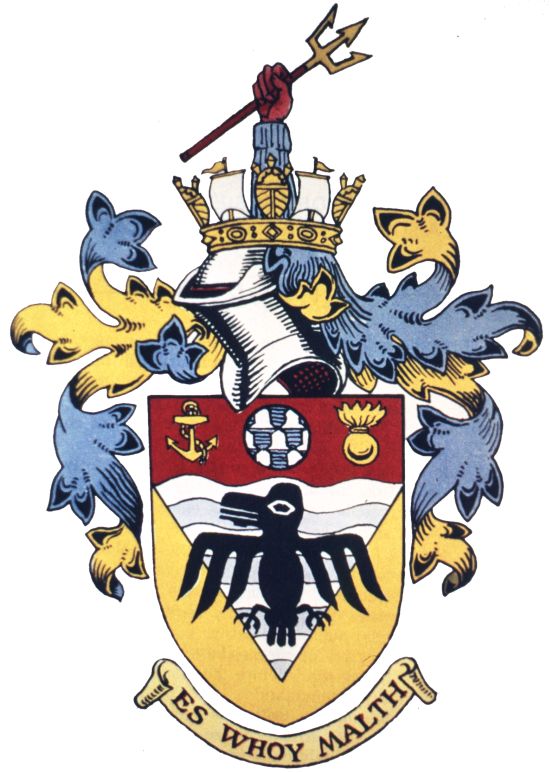 Official blazon
Origin/meaning
The arms were officially granted in 1970.
The V-shaped section on the shield with white and blue wavy lines is intended to represent the "shoaling place" or harbour of Esquimalt. The golden area surrounding it refers to the shores which, at certain times of the years, are golden with yellow bloom.
The bird and principal charge is an heraldic interpretation of the Naden Raven and is placed here in tribute to the original inhabitants of the area, the Naden River people of the Haida Indians.
The chief of the royal colours is suggestive of the loyalty of Esquimalt to British traditions and the Throne.
The roundel is shown in vair, originally made of squirrel furs, and is placed here in tribute to the Hudson's Bay Co. which was responsible for the establishment of the first white settlers at Esquimalt, and which traded mainly in furs at the time.
The roundel is flanked on one side by a golden anchor in reference to the British Navy and mercantile affairs generally, which were at one time vital to the maintenance of the white man's settlements on the West Coast. On the other side, the Grenade, the device of the engineers, is shown in tribute to the Royal Engineers who were responsible for many of the original installations at Esquimalt and also to the present day Army components in this area.
The crest is a tribute to the Royal Canadian Navy whose principal West Coast Base and training establishments are located in Esquimalt. It is derived from the crest in the Arms of Plymouth and Devonport, England but sufficiently differenced to be unique, and refers to the British Naval traditions upon which the Royal Canadian Navy is founded. It displays a Naval Crown, from out of which rises an arm clad in sailor's working rig, and holding aloft a Trident, a symbol of defence against enemies at sea.
The Motto, "Es-whoy-malth" is an anglicized version of the Indian for "a shoaling place" and from which the name Esquimalt was derived.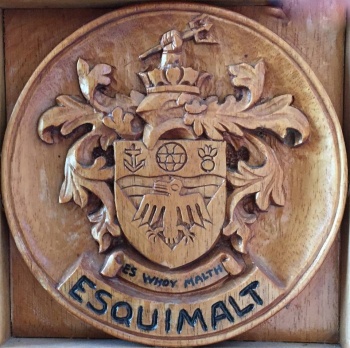 The arms inside Victoria City Hall (image Andrew Andersen‎)
Literature : Image provided by Giovanni Scotto d'Aniello, Italy