Ethiopia
Jump to navigation
Jump to search
Ethiopia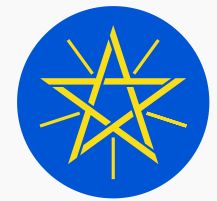 National symbols
Administrative division
Ethiopia is divided into nine ethnically based administrative countries (kililoch, sing. kilil) and subdivided into sixty-eight zones and two chartered cities: Addis Ababa and Dire Dawa. It is further subdivided into 550 woredas ('municipalities') and several special woredas.
Heraldry
Ethiopia does not use a coat of arms, but the above symbol or emblem.
As far as I know none of the subdivisions or cities use arms, but some do use a logo.
Colonial heraldry
For the colonial heraldry see Italian East Africa.
Other heraldry