Grbovi Jugoslavije
Kava Hag : Grbovi Jugoslavije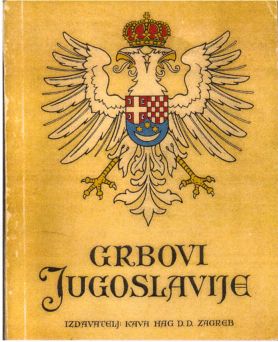 Album information :
Issued by : Kava Hag, Zagreb
Date of issue : 1930 (?)
Number of stamps/cards : 256
Image variants : None
Company
For information on the company, see the overview of Coffee Hag albums.
Album
The album 'Grbovi Jugoslavija' was issued around 1930..
The album was published by Kava Hag, Zagreb and printed bu Lit. Tipografija D.D. Zagreb. The authors were Emilij Laszowski and Rudolf Horvat.
The album contains 256 stamps with images, which are numbered without breaks from 1 (national arms) until 256 Žužemberg. The album is divided in 3 chapters; the first on the National and Royal arms, followed by some historical territorial arms. The second deals with provincial arms and the third (and largest) part with the town arms.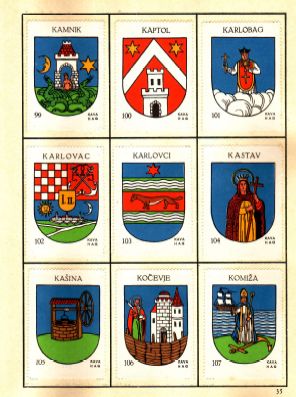 Unlike some other albums, there is no text on the back of the stamps.
Contents
Adamovec, Bačka, Bakar, Bapska, Baranja, Belo, Beočin, Beograd (Novi Grb), Beograd (Stari Grb), Bešenovo, Bihać, Bijela Crkva, Bingula, Biograd, Bjelovar, Bjelovar, Blatnica, Blato, Bohinjska Bistrica, Borovo, Bosna, Bović, Brestovac, Brežice, Bribir, Brkasovo, Brod na Kupi, Brod na Savi, Budjanovci, Budva, Čakovac, Čalma, Čazma, Celje, Čerević, Cerknica, Cetinje, Cirkvena, Crna Gora, Črnomelj, Cvetkovići, Dalmacija, Daruvar, Delnice, Desinec, Divoš, Djakovo, Dobrinci, Domagovići, Donji Miholjac, Draganići, Dravograd, Drivenik, Dubovac, Dubrava, Dubrovnik, Dubrovnik (nekoć Republika), Erdevik, Gjelekovac, Gotalovac, Grabovo, Grgurevci, Hercegnovi, Hercegovina, Hreljin, Hrvatska, Hvar, Ilok, Imotski, Indjija, Irig, Istra, Ivanić Grad, Jastrebarsko, Jazak, Jazak-Prnjavor, Jugoslavija, Kamenica, Kamnik, Kaptol, Karlobag, Karlovac, Karlovci, Kašina, Kastav, Kočevje, Komiža, Koprivnica, Korčula, Koruška, Kostajnica, Kostanjevica, Kostel, Kotor, Kraljev Grb, Kraljevci, Kraljevec, Kranj, Kranjska, Krapina, Krašići, Križevci, Križevci, Krmpote, Krško, Krušedol, Krušedol-Prnjavor, Kukujevci, Kupčina Gornja, Lapac, Laško, Ledinci, Legrad, Livno, Ljubljana, Ljutomer, Lož, Ludbreg, Mala Remeta, Mali Radnici, Mandjeloš, Maradik, Maribor, Marija Bistrica, Medjimurje, Metlika, Milna, Mitrovica, Mokronog, Mrkopalj, Našice, Neradin, Neštin, Nin, Novi Sad, Novigrad, Novomesto, Omiš, Opatovac, Orlica, Ormož, Osijek, Ostrovo, Ostrožac, Pag, Pakrac, Pančevo, Paštrovići, Perast, Petrinja, Petrovaradin, Petrovci, Petrovina, Podbrežje kod Ozlja, Podbrežje na Kupi, Podgorica, Poljica, Požega, Požega, Prelog, Pribići, Privina Glava, Psarjevo, Ptuj, Putinci, Rab, Radeče, Radovljica, Rakovac, Raša, Rasinja, Ravanica, Ravnagora, Rečica, Ribnica, Rijeka, Rivica, Ruma, Samobor, Sarajevo, Šarengrad, Šatrinci, Sela, Senj, Senta, Severin, Sevnica, Šibenik, Šid, Sisak, Škofja Loka, Skrad, Skradin, Slatina, Slavonija, Slovenjgradec, Slovenska Bistrica, Sombor, Split, Srbija, Srijem, Štajerska, Stara Palanka, Stari Grad, Stična, Ston, Strelče, Subotica, Subotište, Sušak, Susek, Susjedgrad, Sv. Ivan Zelina, Sv. Jana, Sv. Križ, Sviben, Temeš, Torontal, Tovarnik, Trebinje, Trg, Trogir, Trsat, Tržić, Turjak, Turopolje, Vače, Varaždin, Varaždin, Velika Kikinda, Velika Remeta, Veliki Bečkerek, Vinica, Vinica, Vinkovci, Virovitica, Virovitica, Vis, Višna Gora, Vivodina, Voća, Voganj, Vojvodina, Vrbovsko, Vrdnik, Vrhnika, Vršac, Vugrovec, Vukovar, Vuzenica, Zagreb (province), Zagreb-I, Zagreb-II, Zala, Zemun, Žužemberg
The whole album on pdf.