J & F Bell - Rigsvaabener
Jump to navigation
Jump to search
J & F Bell - Rigsvaabener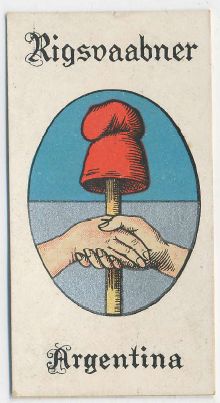 Series information
Series name : Rigsvaabener (Coats of Arms of Countries)
Issued by: J & F Bell
Date of issue : 1925
Number of cards : 60
Image variants : ?
Company
J.& F. Bell Ltd was a cigarette company based in Glasgow, UK. The company has issued 8 series of tobacco cards, of which one was issued for the Danish market and showed the arms of different countries. The legend and the texts on the front and reverse are all in Danish.
Cards issued
Reverse: