Kuwait
Jump to navigation
Jump to search
Kuwait -دولة الكويت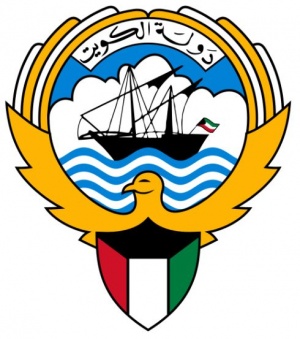 National symbols
Administrative division
Kuwait is divided into 6 governorates (muhafazah). The governorates are further subdivided into districts.
None of these actually uses a coat of arms.
National emblem
The Emblem of Kuwait was adopted in 1962 and it consists of the shield of the flag design in color superimposed on a golden falcon with wings displayed. The falcon supports a disk containing a boom sailing ship, a type of dhow, with the full name of the state written (in Arabic) at the top of the disk.
The dhow is a symbol of the maritime tradition of the country and is also found in the national coats of arms of Qatar. The falcon is a symbol of the Banu Quraish line, to which the prophet Muhammad belonged and is likewise found in many coats of arms of the Arabian Peninsula.
Other heraldry