Macau
Jump to navigation
Jump to search
MACAU (澳門)
Status: Special administrative district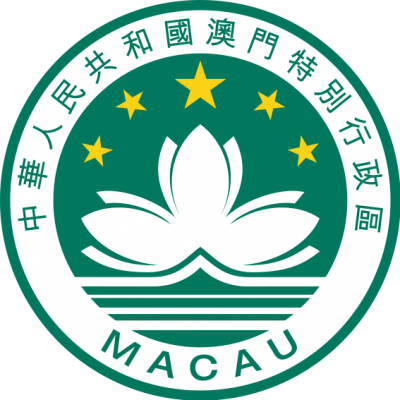 Origin/Meaning
Macau does not have a true heraldic arms, but uses the above symbol.
From the 17th century until 1999 Macau was a Portuguese colony.
In the 19th century the colony did not have true arms, but used the Portuguese national arms, surrounded by the motto Cidade do nome de Deus, não há outra mais Leal (Portuguese for City of the Name of God, there is none more Loyal).
| | |
| --- | --- |
| The arms in 1862 | The ancient arms in colour |
In June 1932 the first arms for Macau were designed and proposed to the Ministry of Colonies. The arms follow a centralised pattern with a bordure with the castle of Portugal and a cross as used by the Portuguese discoverers. For each province a separate symbol was used as the main charge. For Macau a dragon with a Portuguese shield was chosen. These arms were, as far as I know, never officially adopted and replaced in 1935.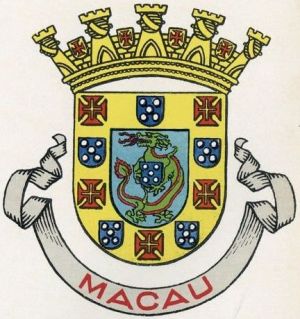 The proposal from 1932
In the 20th century all Portuguese colonies were granted arms based on a similar design; the small shields of the arms of Portugal in the upper right, a local symbol in the upper left and the base with waves (for 'overseas' territories). Initially Macau used the Chinese dragon on its historical colours (gold on black), which, on May 8, 1935, were replaced by a golden dragon in blue.
Due to a change in status, the arms were chaned in 1951, when the word colony was replaced by overseas province.
| | |
| --- | --- |
| The arms of Macau until 1935 | The arms of Macau from 1935-1951 |
| The arms of Macau from 1935-1951 | The arms of Macau on a coin |