Mauritius
Jump to navigation
Jump to search
Mauritius
Administrative division
The island of Mauritius is divided into 9 districts (capitals in parentheses):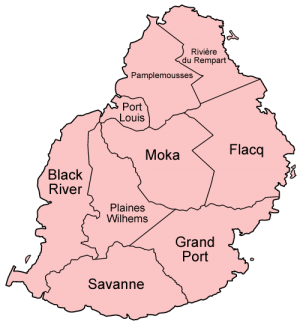 Black River (Bambous)
Flacq (Centre de Flacq)
Grand Port (Rose-Belle)
Moka (Quartier Militaire)
Pamplemousses (Triolet)
Plaines Wilhems (Rose-Hill)
Port Louis (Port Louis)
Rivière du Rempart (Mapou)
Savanne (Souillac)
Each of the districts is further divided into municipalities.
I have no idea how many of these actually use a coat of arms.
The island of Rodrigues is divided in 14 municipalities, which are further subdivided into a total of 182 localities.
Coats of arms of cities and municipalities
Other heraldry
Heraldic collector's items