Morocco
Jump to navigation
Jump to search
Kingdom of Morocco - المملكة المغربية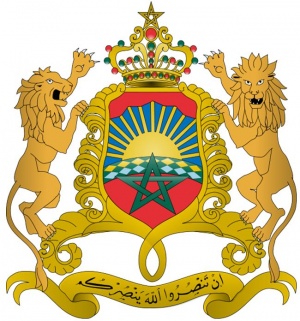 National symbols
Administrative division
Morocco is divided into 16 regions. These are further divided into 61 second-level administrative subdivisions, 13 préfectures and 48 provinces. Each préfecture and province is subdivided into districts, municipalities or urban municipalities, as well as arrondissements in some metropolitan areas. The districts are subdivided into rural municipalities.
In addition to this, urban areas are combined into wilayas, a level between a region and a province or préfecture.
Many of the subdivisions use arms, but only until provincial level. I have no idea whether the municipalities use arms.
Subdivisions that use arms:
Western Sahara
The Western Sahara is a territory de facto under control of Morocco, but not recognised by any UN member as part of Morocco.
It is listed here.