National Arms of Finland
Jump to navigation
Jump to search
NATIONAL ARMS OF FINLAND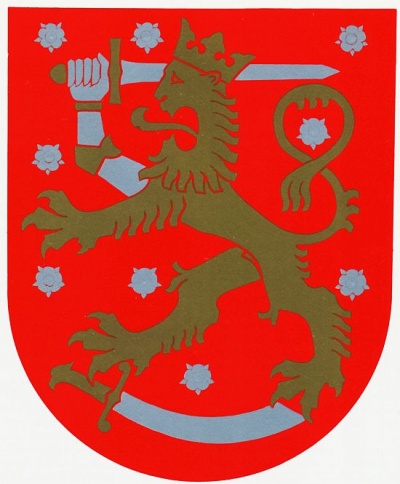 Official blazon
Finnish: Punaisessa kentässä kruunupäinen leijona, joka pitää oikean etujalan sijalla olevassa haarniskoidussa kädessä iskuun kohotettua miekkaa ja polkee takajaloillaan sapelia, leijona kruunuineen ja varuksineen, aseiden kahvat ja käsivarsihaarniskan nivelet kultaa sekä aseiden terät ja käsivarsihaarniska hopeaa; kenttään siroteltu yhdeksän hopearuusua.

Swedish: I rött fält ett krönt lejon som trampar på en sabel och vars högra arm ersatts med en harneskklädd ram svingande ett svärd; lejonet, dess krona och beväring, armharneskets ledplåt och vapnens fästen av guld, vapnens klingor och harnesket av silver; fältet bestrött med nio rosor av silver.
Origin/meaning
The arms are defined by the Laki Suomen vaakunasta (381/78))
The arms depict a golden crowned lion (often called the Lion of Finland) rampant holding a sword on its armoured hand and trampling on a sabre. Around the lion are scattered nine silver roses.
Lion has been a common charge in Nordic arms and used in royal Swedish heraldry since 13th century. The first Duke of Finland (Bengt Bigersson, 1254-1291) used as his arms the arms of the House of Folkunga: a crowned lion rampant with three bends sinister on a field sémy of hearts.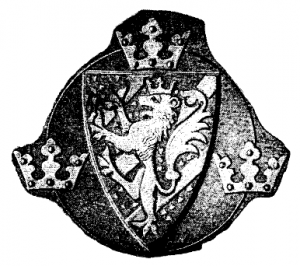 Depiction of the Folkunga arms from the Nordisk familjebok
The lion of Finland first known appearance as a symbol of Finland is on the memorial of King Gustav I of Sweden, around 1580. As a border duchy, the lion is armed with a sword, symbol of Western Europe, and trampling a sabre, symbol of the East and namely Russian Empire, rival of Sweden with which Sweden had a great war in 1579-1595. The armoured arm is most likely reference to Karelia (Eastern Finland, the area Sweden and Russia were fighting in and for) and taken from its arms.

First depiction of Finnish arms on memorial of Gustav Vasa
Originally, the roses around the lion were just space-filling decoration and their number varied between emblazons. Only later was the number established as nine, then seen as a reference of the nine provinces of Finland.
In later drawings of the arms in the 17th and 18th century the lion had most often lost its armoured arm; this was most likely result of erroneous copying. Sometimes the lion was also depicted holding the sabre with its left arm. At times the lion was also depicted with a twin tail, most likely inspired by the Bohemian lion.
In the Finnish War (1808-1809) Sweden lost Finland for Russia, and Finland became the autonomous Grand Duchy of Finland within the Russian Empire. The coat of arms was unchanged, only the crown above the arms changed shape.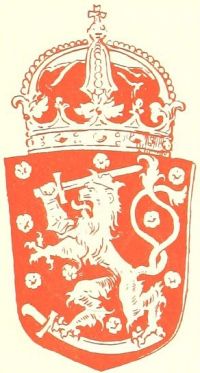 Arms of Grand Duchy of Finland from Finland in the Nineteenth Century by Finnish authors. Illustrated by Finnish artists, by Leopold Henrik Stanislaus, lion has two tails
Finland became independent state on December 6th in 1917. On February 17th in 1919 coat of arms was ratified for the young state. The design was taken from the memorial of the cathedral of Uppsala, with the armoured arm and nine roses. At first a grand-ducal crown was used over the arms, but it was removed in 1920. Since then, the arms have been unchanged.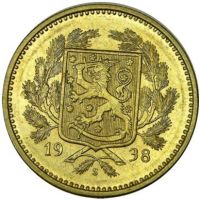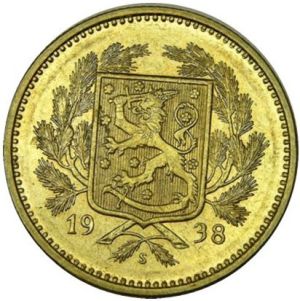 The arms on a coin
In 1934 the Finnish government did set up a committee to design state coat of arms with full achievement. Sketches were made by artist Germund Paaer, with bears as supporters, crowned with the grand-ducal crown and with the motto "VAPAA, VANKKA, VAKAA" ("Free, strong, stable"), but during the turmoils of World War II the project was forgotten and abandoned.

Greater arms proposal 1934
---
Heraldry of the World is a private site and maintained as a hobby, which takes a lot of time and effort (and costs).
If you like this initiative, please support the site:

Please visit our partners (click on image):
---
© since 1995, Heraldry of the World, Ralf Hartemink
Literature : A. W. Ranckén: Suomen vaakunat ja kaupunginsinetit. WSOY, 1949
Iltanen, Jussi: Suomen kuntavaakunat. Helsinki: Karttakeskus, 2013
Images from here , here, here and here.
Thanks to Heikki Halkosaari for provinding the information.