Robert Louis
Jump to navigation
Jump to search
ROBERT LOUIS
A page devoted to the famous heraldic artist Robert Louis, born 20 February 1902 in Douai (France), died 22 September 1965 in Vincennes (France).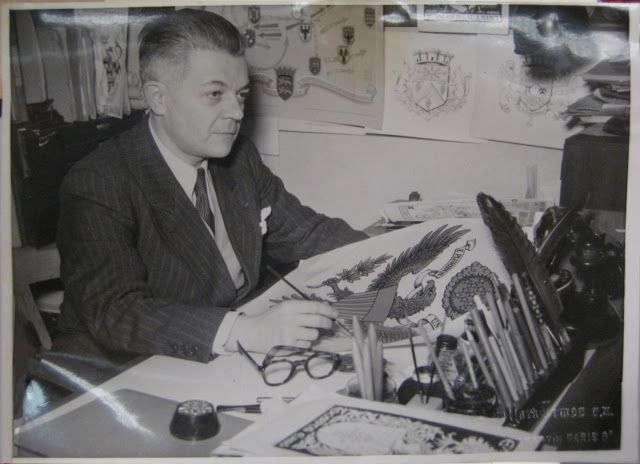 Biography
One of the most famous heraldists in France in the mid 20th century was Robert Louis. He designed a large number of arms, but he was famous for his heraldic art of French historical regions, towns and provinces. He wrote a number of books on the different arms of towns in several départements, most French heraldic stamps were based on his drawings and a large number of postcards have been issued.
Besides postcards he also designed many stamps (see the stamps section of the site. He also wrote many books and designed all kinds of other heraldic items, see below.
His personal arms and seal:

Address of his studio (later shared with his daughter Mireille Louis) :
Images (scans) from his work

The Kingdom of France and its provinces

The arms of the Département Seine

Provincial arms 1

Provincial arms 2

The Floriade in Paris, 1969
Books/publications by Robert Louis
Louis, R. : Armoiries des villes de France. Blasons des prefectures et des sous-préfectures. Paris, 1949, 92 p. No ISBN.
Louis, R. : Armorial des communes de la Seine. 2nd edition, Troyes, 1961, 70 p. No ISBN.
Balmelle, M. and Louis, R. : Armorial des communes du département de la Lozère. Mende, Caussignac, 1959, 56 p. No ISBN.
Bernard, G. and Louis, R. : Armorial des communes du Département de l'Aube. Tome 1. Chef-lieux de canton. Troyes, 1959, 72 p.
Tricou, J. and Louis, R. : Armorial des communes du Département du Rhône. Tome 1 chefs-lieux de canton. 2nd edition, Troyes, 1963, 44 p. No ISBN.
Tupigny, M. de and Louis, R. : Les armoiries des provinced Françaises. Paris, 1952. 44+39 p. No ISBN.
Books/publications by Mireille Louis
Estienne, J.P. and Louis, M. : Armorial de la Somme. Conseil Général de la Somme, 1957, Abbeville, 74 p. No ISBN.
Literature/sources : unless otherwise stated, all images are own original scans or pictures.
---
Heraldry of the World is a private site and maintained as a hobby,
which takes a lot of time and effort (and costs).
If you like this initiative, please support the site:
All donations and sales are used for new acquisitions and maintaining the site

Follow us on
---