Saint Lucia
Jump to navigation
Jump to search
Saint Lucia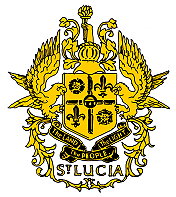 National symbols
History
St. Lucia was colonised by the English in 1638, became French in 1642 and until 1814 the island changed hands between France and England 15 times, finally becoming English in 1814. In 1838 St. Lucia became part of the Windward Islands colony, and from 1958-1962 it was part of the West Indian Federation. In 1979 the island became independent.
Administrative division
Saint Lucia has 11 quarters, or parishes of the island, under the French colonial government which was continued by the British. None of these use arms.
Heraldry