Schoonhoven
Jump to navigation
Jump to search
SCHOONHOVEN
Provincie  : Zuid Holland
Opheffing  : 2015 Krimpenerwaard
Toevoegingen : -
I : 24 juli 1816
"Gevierendeeld : I en IV in zilver een leeuw van keel II en III in zilver een leeuw van sabel"
II : 25 maart 1933
"Gevierendeeld : I en IV in zilver een leeuw van sabel II en III in zilver een leeuw van keel"
NB De gemeente voert het wapen regelmatig gedekt door een gouden kroon van 5 bladeren.
Oorsprong/verklaring
Wanneer Schoonhoven stadsrechten heeft verkregen is niet bekend. Wel is bekend dat in het midden der 13e eeuw een burcht werd gesticht door Jan van der Lede. In 1280 wordt de heerlijkheid uitgegeven door Floris V van Holland aan Nicolaes van Cats. Een jaar later gaf de bisschop van Utrecht zijn wereldlijke rechten en rechtspraak aan de oostkant van Schoonhoven, in "Lopikerpoort", eveneens in leen aan Nicolaas van Cats. Hiermee kwam het gehele gebied onder één heer. In hetzelfde document verleende de bisschop Schoonhoven tolvrijdom.
Het oudst bekende zegel dateert uit het begin van de 14e eeuw. De oudste bekende afdruk dateert van 9 juli 1323 (zie fig 1, een afdruk uit 1416). Het zegel vertoont een burcht met twee torens, met links en rechts op de muur een sleutel. Boven de burcht een gevierendeeld wapen met vier leeuwen.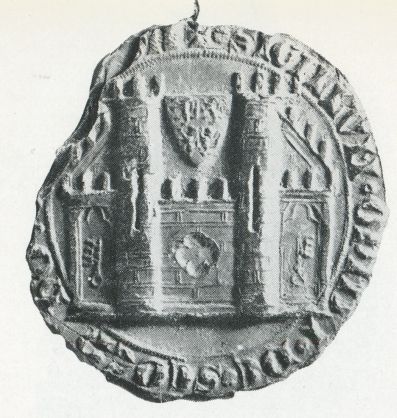 Het oudste zegel van Schoonhoven uit de 14e eeuw (1323, afdruk uit 1416) Uit: Lugard, afb 1.
Ale andere bekende zegels van Schoonhoven vertonen de vier leeuwen. Het, eveneens 14e eeuwse, contrazegel vertoont de vier leeuwen in een duidelijk gevierendeeld schild (Fig 2), maar het 16e eeuwse zegel ten zaken vertoont de leeuwen los in het veld (Fig 3), evenals latere 16e en 17e eeuwse zegels. In alle gevallen betreft het een los wapen, behalve op een 19e eeuws zegel, waarop het wapen gehouden wordt door twee leeuwen en gedekt wordt door een vijfbladerige kroon.
| | |
| --- | --- |
| Het contrazegel van Schoonhoven uit de 14e eeuw (afdruk uit 1323) Uit: Lugard, afb 3. | Het zegel ten zaken van Schoonhoven uit de 16e eeuw (afdruk uit 1550) Uit: Lugard, afb 2. |
De leeuwen zijn ontleend aan het wapen van de graven van Holland-Henegouwen. Willem van Henegouwen, graaf van Henegouwen, Holland, Zeeland en heer van West-Friesland, oudere broer van Jan van Beaumont, voerde als eerste de vier leeuwen: op goud, I en III sabel, II en IV keel. Hij was heer van Schoonhoven van 1304 tot 1310. Zijn broer Jan voerde dit wapen met een barensteel. Het wapen kan dus niet ouder zijn dan 1304. De vraag is of het een afleiding is van het wapen van Jan van Beaumont of van Willem III. Het wapen is in ieder geval later overgegaan op de stad.
Over de juiste kleuren van het wapen is veel te doen geweest. De Hoge Raad van Adel verleende het wapen met de leeuw in het eerste kwartier van rood. Historisch zijn hier maar twee bronnen van bekend, een boek uit 1632 en een plattegrond uit 1648. Andere bronnen zijn waarschijnlijk allen hiervan, of van het wapendiploma van 1816 afgeleid. Daarentegen bestaan er 17 bronnen met de zwarte leeuw in het eerste kwartier. Ook hier zullen er een aantal afgeleid zijn van oudere bronnen, maar het aantal is duidelijkhoger. De oudste afbeelding dateert uit 1596, op een glas geschonken door de steden van Holland aan de St. Janskerk te Gouda. Ook in het oude wapen van Holland-Henegouwen staat de zwarte leeuw in het eerste kwartier (zie bijv. Rotterdam). De gemeente besloot daarom in 1932 het wapen te wijzigen in de historische kleuren.
Schoonhoven is one of the older cities in the county of Holland. When the city rights were granted is unknown, probably at the end of the 13th or beginning of the 14th century. The town was founded by Jan van der Lede, who built a castle near the present town. In 1280 the count of Holland, Floris V, granted the village and estate to Nicolaes van Cats. In 1281 the bisshop of Utrecht granted freedom of some taxes. This also means that the town moved from Holland to Utrecht. Schoonhoven was a border town and the counts of Holland and the bishops of Utrecht were more or less continuously at war.
The oldest great seal of the city shows a castle, above which is placed a shield with four lions (Fig 1). It is known since 1323, but is probably about ten years older. All other seals only show a shield with four lions (Fig2 and 3), the oldest also being from 1323. Except for a 19th century seal, where the shield is held by two lions and crowned, there are no tenants or crowns.
The lions are derived from the arms of the counts of Holland-Henegouwen (quarterly Holland and Henegouwen). They were used since the beginning of the 14th century. Schoonhoven probably adapted the arms from Jan van Beaumont, brother of William III of Holland-Henegouwen, who was lord of Schoonhoven from 1310 to 1357. The arms have not changed since then.
There has been much dispute about the colours of the lions. In 1816 the arms were granted with the red lion in the first quarter. This was either a mistake by the painter at the Hoge Raad van Adel (registry office), or by the town council. Unfortunately the original drawing put forward by the town council is lost. There are some historical pictures showing the red lion in the first quarter (all from the 17th century), but there are more and older pictures with the black lion in the first quarter. Also, the original Holland-Henegouwen arms show the black lion in the first quarter (see f.e. Rotterdam). The town decided in 1932 to change the colours to the original colours.

Literatuur: Lugard, 1966
---
Heraldry of the World is a private site and maintained as a hobby, which takes a lot of time and effort (and costs).
If you like this initiative, please support the site:

Please visit our partners (click on image):
---
© since 1995, Heraldry of the World, Ralf Hartemink