Sint Eustatius
Jump to navigation
Jump to search
SINT EUSTATIUS
Provincie : Overzeese gemeente
Opheffing: -
Toevoegingen: -

Ingebogen gekapt van zilver, beladen met een zee-engel van natuurlijke kleur; rechts golvend doorsneden; I in keel een uitkomend rotsmassief van goud, bestaande uit twee gedeelten, waarvan het achterste gedeelte een derde van de hoogte van het voorste heeft; II golvend gedwarsbalkt van tien stukken van azuur en zilver; links doosneden; I in zilver een uitkomend fort met gekanteelde ommuring van oranje, bestaande uit een toegangspoort en twee spitsvormige torens verlicht van sabel en een klokkentoren verlicht van het veld; II van sinopel. Het schild omsloten door een kralenketting van azuur, geplaatst op twee schuingekruiste rietstengels van natuurlijke kleur en gedekt met een stenen kroon van zilver, gevoegd van sabel, bestaande uit vier torens met elk vier kantelen. Wapenspreuk: SUPERBA ET CONFIDENS in Latijnse letters van sabel op een lint van zilver.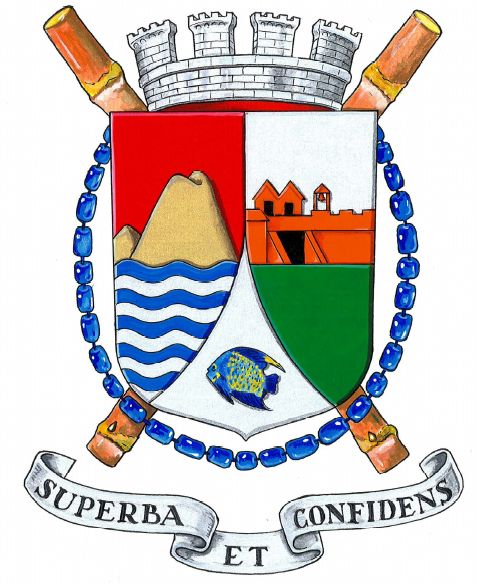 Oorsprong/betekenis :
Het wapen is door de eilandraad aangenomen in 2002 en officieel verleend op 20 september 2010.
Het logo is in drie delen verdeeld; het verleden (de Golden Rock), het heden (Fort Oranje) en de toekomst (engelvis).
Sint Eustatius was een belangrijke handelspost in het Caraïbisch gebied, en kreeg vandaar de naam 'Golden Rock'. Het wapen laat St.Eustatius eruit ziet wanneer zij vanuit het zuid-westen wordt benaderd en waarbij Quill vanuit de oceaan rijst als een massieve rots. Het is omgeven door een rode achtergrond zoals St. Eustatius omgeven is door het Caraibisch gebied.
Fort Oranje is het oudste en belangrijkste gebouw op het eiland. Het is altijd het centrum geweest van het sociale leven van St. Eustatius en middelpunt van alle officiele gebeurtenissen en vieringen. De meest belangrijke historisch lotgevallen vonden hier plaats waaronder het befaamde Eerste Saluut aan de Verenigde Staten in 1776. Het is een prachtig en indrukwekkend onderdeel van het historisch erfgoed van St. Eustatius.
In het onderste vlak van het wapen is een Zee-engel "Angelfish" afgebeeld, een symbool van de rijke en kleurvolle wateren rondom Sint. Eustatius, een ecologisch erfgoed dat St. Eustatius zorgvuldig moet beheren en dat een belangrijke onderdeel van een toekomstige handel kan worden daar het vele bezoekers trekt. Het symboliseert daarom de toekomst van het eiland.
Het schild is omgeven door blauwe kralen, een belangrijk handelswaar in vroegere tijden. Het symboliseert ook de vele werelddelen waar de bevolking van St. Eustatius vandaan komt daar de kralen ook gevonden worden in Amerika, Europa en Afrika. Ze zijn hier allemaal in harmonie aaneengeregen, in een prachtige ketting.
Achter het schild staan twee suikerrietstengels, een symbool voor de vroegere suikerplantages. Het landschap van St. Eustatius wordt nu nog voor een groot deel bepaald door de oude plantages. De dikwijls nog indrukwekkende ruines van de plantagehuizen kunnen overal aangetroffen worden en het land is nog steeds verdeeld door de muren van de oude plantages terwijl vele wegen nog langs de oude grenzen lopen.
De kroon symboliseert de 16 (voormalige) forten op het eiland: Oranje, Bouille, Nassau, Dollijn, de Windt, Corre Corre, St. Louis, Concordia, Jenkins Bay, Tumble Down Dick Bay, Cul de Sac, Panga, Royal, Amsterdam, Rotterdam en de Batterij Bourbon.
Het motto uperba et confidens betekent "Tots en vol zelfvertrouwen.
Origin/meaning
These quite unheraldic 'arms' have been adopted by the island council in 2002 and were officially granted in 2010.
The image is divided into three parts; the past (Golden Rock), present (Fort Oranje) and the future (angelfish).
The golden rock is the name given to the island when it was a very rich trading post in the Carribean. Fort Oranje is the oldest building on the island, and the centre of social life. At the fort the Dutch government was the first to officially salute a US ship, thus the first official recognition of that country. The fish symbolises the rich nature and ecological heritage of the island. The nature also attracts many visitors and is thus of importance for the present and future of the island.
Around the shield is a string of blue beads, a historical curiosity of the island. Behind the shield are two sugar cane stalks, symbolising the ancient sugar plantations. The crown symbolises the 16 (former) forts on the island.

The motto Superba et confidens means Proud and Confident.

Follow us :



(when sharing images on Instagram, use #heraldryoftheworld)


Literature : -