SMILDE
Provincie  : Drenthe
Opheffing  : 1995 Meppelerdiep (2000 Reest en Wieden)
Toevoegingen : -
I : 3 augustus 1948
"Gedwarsbalkt van 8 stukken van zilver en keel, en een golvend doorsneden vrijkwartier : I in zilver een omziende vliegende adelaar van sabel, II golvend gedwarsbalkt van azuur en zilver van 5 stukken. Het schild gedekt door een gouden kroon van 3 bladeren en 2 parels."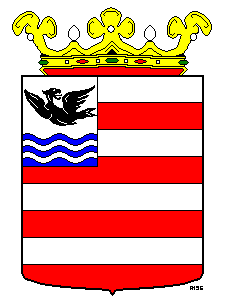 Oorsprong/verklaring
Smilde is een typische veenkolonie. Het veen werd op de gebruikelijke manier afgegraven; eerst werd er een kanaal gegraven, waarop vele zijkanalen uitkwamen, gebruikt voor de afvoer van de turf. Dit systeem van kanalen wordt in het wapen weergegeven door de horizontale banen. Langs het kanaal ontstond in 1625 een dorp met de naam Hoogersmilde. Enige jaren later richtte Adriaan Pauw, raadspensionaris van Holland en West-Friesland zich tot de Staten van Drenthe met het verzoek om in de Smilder Venen een heerlijkheid te mogen stichten. Op 19 februari 1633 wordt hij beleend met de heerlijkheid Hoogersmilde. De heerlijkheid kreeg ook een wapen, namelijk een adelaar boven een golvende zee. Waar de adelaar vandaan komt is niet bekend. Wel voerde Adriaan Pauw het wapen als een van de kwartieren in zijn eigen wapen. Van Hoogersmilde zelf zijn geen wapenafbeeldingen bekend. Wel zijn er een aantal ontwerpen gevonden, waarop de adelaar of vliegt, of staat. In het wapen is het water weergegeven door golvende dwarsbalken van azuur en zilver.
In de Koffie Hag albums wordt een geheel ander wapen voor Smilde gegeven. De achtergrond van dit wapen is niet bekend.

Het heerlijkheidswapen van Hoogersmilde

Het wapen in de Koffie Hag albums +/- 1930

Poststempel 1977

Poststempel 1981

Het wapen op een envelop 1987

Briefhoofd, +/- 1995

Het wapen op een Willem II bandje

English summary : Smilde was founded along the canals that were dug to drain the marshes and harvest the peat. This has resulted in a landscape with many parallel canals, which is symbolised in the arms. The free quarter shows part of the arms of Adriaan Pauw, who initiated the draining of the area in 1633.

The lower image shows the arms mentioned in the Coffee Hag albums] in the 1920s. The origin and meaning of these arms is unknown, the arms have never been granted.

Literatuur: Bontekoe, 1951a; wapen van Hoogersmilde verkregen via het Drents Heraldisch College.
---
Nederlandse heraldiek:
(Dutch only/alleen Nederlandstalig)

Total pages in the Dutch section : 13,199
Total images in the Dutch section : 9,921

Colonial heraldry:
(English)

Dutch heraldic collector's items
(selection, see also categories on the left)
---
Support the site:
Contact us:
Our partners:
---