United Arab Emirates
Jump to navigation
Jump to search
UNITED ARAB EMIRATES - دولة الإمارات العربية المتحدة
| | | |
| --- | --- | --- |
| | | |
| The National Symbol of the United Arab Emirates | The National Flag | Location |
Administrative division
The United Arab Emirates is divided into seven emirates, Abu Dhabi, Ajman, Dubai, Fujairah, Ras al-Khaimah, Sharjah and Umm al-Qaiwain. Abu Dhabi is divided for administrative purposes into three major regions. The other emirates ar enot further divided.
As far as I know none of the subdivisions or cities use arms, but some do use a logo.
National Symbol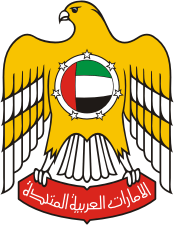 The emblem of the United Arab Emirates was officially adopted in 1973. It is similar to the coats of arms and emblems of other Arab states. It consists of a golden falcon of Saladin. The falcon had a red disk which shows an Arab sailboat in its interior. The disk is surrounded by a chain. The falcon holds with its talons a red parchment bearing the name of the federation in Kufic script.
On March 22, 2008, the emblem was modified. The main change was that the Arab sailboat was replaced by the UAE flag and seven stars representing the seven Emirates of the federation.
The former emblem: