Worshipful Company of Drapers
WORSHIPFUL COMPANY OF DRAPERS
London Guild
Established: 1438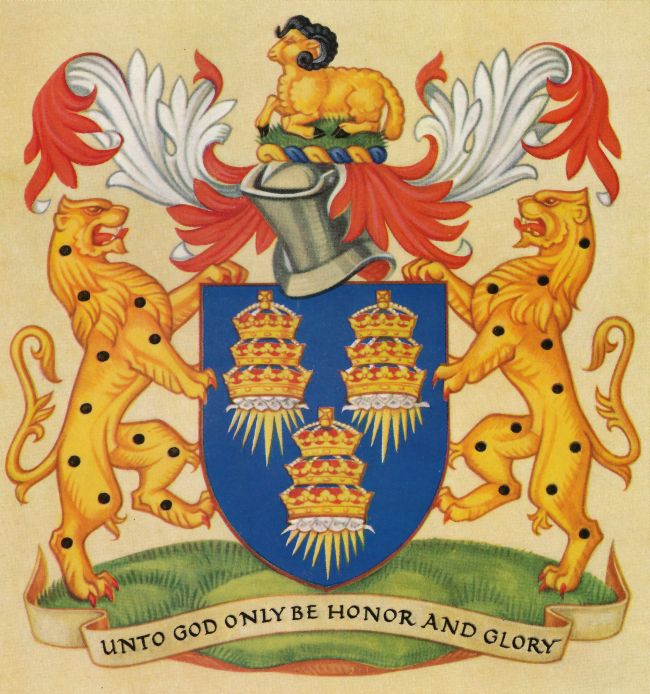 Official blazon
Arms : Azure, three clouds with sunbeams issuing proper crowned with Imperial Crowns tripled Or.
Crest: On a wreath of the colours A mount vert, thereon a ram couchant Or, armed and unguled sable. Mantled gules, doubled argent.
Supporters: On either side a lion Or pelletty.
Motto: Unto God only be honor and glory.
Origin/meaning
The arms were officially granted in June 1613 to replace earlier grants (10 March 1439 and 10 July 1561).
Sir William Bruges, first Garter King of Arms, in making the 1439 grant does so in the following terms : Je lez ay devisez enseigne en forme de blason ... Cestassavoir en lonneur du tres gloriouse vierge et meer Marie le quel est en oumbre de soleyll et replendisant en tout claritee et nestete leur ay devisez en lour blason troys Royes de soleille issantz hors de troys nues de flambe coronnez de troys corons imperialx dore assisez sus une escue dasure ... et pour veritablement blasonier le dit armorie Il covient due Il parte dasure troys saleilles issantz de trays nues de geullez coronnes de troys Imperials carons dare ...
An exemplification of the arms appears in the upper margin, the shield being supported by two kneeling angels which do not, however, form part of the blazon of the grant. The phrasing of this patent which has evoked comment is that Garter merely says that he devises an ensign "en forme de blason"; it is noted that he does not specifically grant arms to the Company. In this wording has been seen the uncertainty of Garter's authority which was not defined by territorial limits as was the case of the jurisdiction of Clarenceux and Norroy at the time.
On 10th July 1561 these arms were confirmed by William Hervey, Clarenceux, who added crest and supporters to them: That is to saye, azure, thre sunbeames yssuinge owt of thre clowdes gulz, corened with thre Imperiall crownes goulde, which is perfect and good blason. And for a testimonye and further increase of theyr Wourshippes, I have graunted and assigned unto them, for an augmentacion of theyr saide armes, healme, and creaste, with two supporters, as followeth ; that is to saye, uppon the healme, a mounte vert, theron a ramme couchant golde, horned and cleyed sable, on a wrathe argent and sable, mantelled gulz, dobled argent. And for theyr supporters, two lyons golde, spotted sable, armed and langed gulz.
During the prolonged period of the English Reformation a number of guilds had discreetly eliminated from their arms any features that could have implicated them as amenable to the papal rule. It is therefore conceivable that the grant was renewed to make sure that the tripe Imperial crowns could not be mistaken for a papal tiara.
That the crowns are not papal tiaras is established by the illuminated initial with which the 1439 patent begins. This depicts God the Father and God the Son, each crowned with a triple crown, together similarly crowning the Virgin at her Assumption. It is evident that the illuminated initial and the crowns of the arms have a common inspiration. The crowned clouds of the arms refer, in fact, to the illuminator's rendering of the Assumption of the Virgin Mary, Queen of Heaven, whose triple crown, thrice repeated in the manner conventional to a single charge, is the true motif of the arms.
It has also been suggested that the crowned clouds of the arms were a mistaken rendering of pyx-canopies in the form of veils, such as were sold by drapers, hanging from triple crowned pyxes. But this theory is no more than a speculative attempt to link the arms with the drapers' trade, as the oldest grant already was issued within a year after the foundation of the guild.
---
Support the site:
Contact us:
Our partners:
---
© since 1995, Heraldry of the World, Ralf Hartemink  
Literature : Bromley and Child, 1960