Worshipful Company of Launderers
Jump to navigation
Jump to search
WORSHIPFUL COMPANY OF LAUNDERERS
London Guild
Established: 1960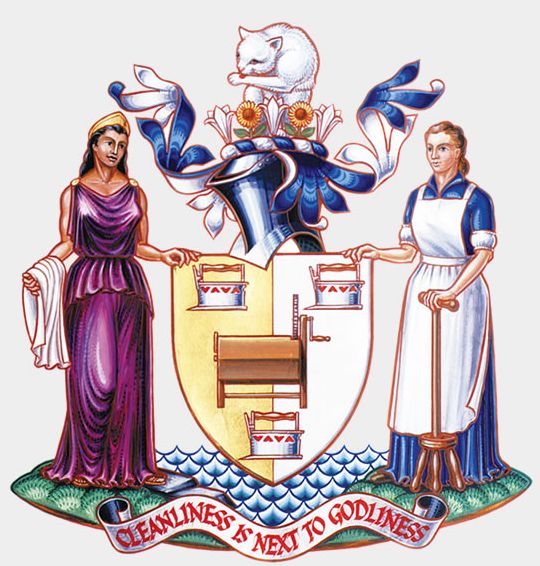 Official blazon
Arms : Per pale Or and argent, a representation of the washing machine invented by Henry Sidgier in the year 1782 between three antique fiat irons fired proper.
Crest: On a wreath argent and azure, A white domestic cat cleaning itself within a circlet of lily flowers and sunflowers alternately proper.
Supporters: On the dexter side a figure representing the Princess Nausicaa robed purpure, draped over the dexter forearm a piece of white sarcenet, upon the head a diadem, and the interior foot resting upon a washing stone; and on the sinister side a figure representing a laundrymaid of the eighteenth century resting the exterior hand upon a dolly, all proper.
Motto: Cleanliness is next to Godliness. |}
Origin/meaning
The arms were officially granted on August 1, 1963.
The central feature on the shield is a representation of a mechanical washing machine, invented in 1782 by Henry Sidgier of London. It operated on a rotary principle which set a trend for successive machines for the next two hundred years. Surrounding Sidgier's machine on the shield are three antique flat irons.
On the crest sits a domestic cat, the cleanest of all animals. Surrounding it are lilies and sunflowers, symbols of purity, warmth and brightness.
The right hand or dexter, supporter of the shield commemorates a royal laundress, Princess Nausicaa. The sixth book of Homer's Odyssey recounts how the Princess and her maidens are surprised by the shipwrecked Odyssseus as they are washing the linen of the royal household on the beach.
The sinister, or left-hand supporter is and eighteenth century laundrywoman of humbler origins. She carries a dolly which, with the tub, was long considered the only apparatus necessary for washing clothes. A progression from beating cloth in running water.
The motto, Cleanliness is Next to Godliness, comes originally from the Talmud, the ancient book of Jewish law and doctrines. It became widespread in England after its adoption by John Wesley for use in his sermons.
Literature : Image and info from https://www.launderers.co.uk/