Kaffee Hag : Die Wappen der Republik Oesterreich
Jump to navigation
Jump to search
Kaffee Hag : Die Wappen der Republik Oesterreich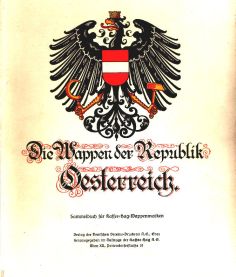 Album information :
Issued by : Kaffee Hag, Wien, Austria
Date of issue : 1931
Number of stamps/cards : 450
Image variants : No different images, but all images were overprinted, making a total of 900 known images.
Company
For information on the company, see the overview of Coffee Hag albums.
Album
The album Die Wappen der Republik Oesterreich was issued in 1931.
| | |
| --- | --- |
| Announcement and description of the album (1931) | Announcement and description of the album (1934) |
The album was published in Graz by the Verlag der Deutschen Vereins-Druckerei A.G. The author was F. Hasslinger.
Two different versions of the album were published; a small edition and a luxury edition. The luxury edition came in a cardboard cage and had one additional page with the Austrian National arms.
The album contains 450 (luxury) images, which are numbered from 1 to 449. The national arms has no number. The album is divided in chapters per State, with the State arms on a separate page, followed by the capital city and, alphabetically, the other towns and cities in the State. The exception is the State of Burgenland, from which no town arms were published.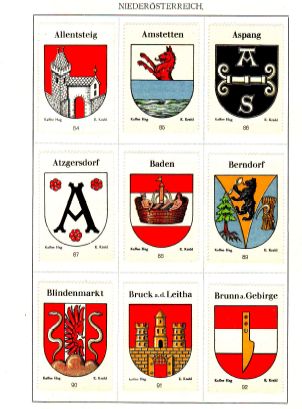 Unlike some other albums, there is no text on the back of the stamps.
The images were drawn by three different artists; K. Krahl, P. Boesch and F. Hasslinger, most (around 80%) were made by Krahl. On each stamp the artist was mentioned, see below.
Other items

Letter regarding the albums


Pocket calendar for 1933
back shows advertising for the album
Contents
For all images see here

Wien
Innere Stadt, Leopeldstadt, Jägerzeile, Zwischenbrücken, Landstrasse, Erdberg, Weissgärber, Wieden, Schaumburgergrund, Hungelbrunn, Margarethen, Nikolsdorf, Matzleinsdorf, Hundsturm, Reinprechtsdorf, Laurenzigrund, Mariahilf, Laimgrube, Windmühle, Magdalenengrund, Gumpendorf, Neubau, Schottenfeld, St. Ulrich, Altlerchenfeld, Spittelberg, Josefstadt, Strozzischer Grund, Breitenfeld, Alservorstadt, Michelbeuerngrund, Himmelpfortgrund, Thury, Lichtenthal, Althan, Rossau, Favoriten, Simmering, Kaiser-Ebersdorf, Unter-Meidling, Obermeidling, Gaudenzdorf, Hetzendorf, Altmannsdorf, Hietzing, Penzing, Greitensee, Hütteldorf, Unter-Baumgarten, Speising, Rudolfsheim, Sechshaus, Fünfhaus, Ottakring, Neulerchenfeld, Hernals, Dornbach, Neuwaldegg, Währing, Weinhaus, Gersthof, Pötzleinsdorf, Neustift am Walde, Salmannsdorf, Ober-Döbling, Unter-Döbling, Sievering, Nussdorf, Heiligenstadt, Grinzing, Kahlenbergerdorf, Brigittenau, Floridsdorf, Leopoldau, Gross Jedlersdorf, Aspern, Kagran, Hirschstetten, Stadlau, Jedlesee, Strebersdorf
Niederösterreich
Allentsteig, Amstetten, Aspang, Atzergsdorf, Baden, Berndorf, Blindenmarkt, Bruck an der Leitha, Brunn am Gebirge, Drosendorf, Dürnstein, Ebenfurth, Ebreichsdorf, Eggenburg, Emmersdorf, Enzersdorf am Gebirge, Fels am Wagram, Ferschnitz, Fischamend, Friedersbach, Gaming, Gars, Gloggnitz, Gmünd, Göllersdorf, Grafenwörth, Gresten, Gross-Enzersdorf, Gross-Siegharts, Gross-Weikersdorf, Gumpoldskirchen, Guntersdorf, Guntramsdorf, Gutenstein, Haag, Hadersdorf am Kamp, Hainburg, Hainfeld, Haugsdorf, Herrn-Baumgarten, Herzogenburg, Herzogenburg an der Wieden, Himberg, Hollenburg, Horn, Kirchberg am Wagram, Kirchberg am Walde, Kirchberg am Wechsel, Kirchschlag, Klosterneuburg, Königstetten, Korneuburg, Krems, Laa an der Thaya, Langenlois, Laxenburg, Liesing, Lilienfeld, Litschau, Loosdorf, Maissau, Marbach an der Donau , Marchegg, Mauer, Mautern, Melk, Mistelbach, Mödling, Neulengbach, Neumarkt, Neunkirchen, Oberhollabrunn, Perchtoldsdorf, Persenbeug, St. Peter in der Au, Petronell, Pöchlarn, St. Pölten, Pottendorf, Poysdorf, Pulkau, Raabs, Rastenfeld, Ravelsbach, Retz, Röschitz, Scheibbs, Schottwien, Schrattental, Schrems, Schwechat, Seitenstetten, Senftenberg, Stammersdorf, Stein, Stockerau, Stratzing, Stronsdorf, Thaya, Theresienfeld, Traiskirchen, Traismauer, Tulln, Ulrichskirchen, Vitis, Vöslau, Waidhofen an der Thaya, Waidhofen an der Ybbs, Nieder-Wallsee, Weissenkirchen in der Wachau, Weiten, Weitra, Wiener-Neudorf, Wiener-Neustadt, Wilhelmsburg, Windigsteig, Wolkersdorf, Wullersdorf, Ybbs, Isper, Zistersdorf, Zwettl
Oberösterreich
Linz, Aigen, Altheim, Aschach an der Donau, Au an der Donau, Aurolzmünster, Braunau, Dimbach, Ebelsberg, Eferding, Engelhartszell, Enns, St. Florian, Frankenburg, Frankenmarkt, Freistadt, Gallneukirchen, Gallspach, St. Georgen im Attergau, Gmunden, Grein an der Donau, Grieskirchen, Haag, Bad Hall, Hallsattt, Haslach, Hellmonsödt, Ischl, Kefermerkt, Kematen an der Krems, Kremsmünster, Kreuzen, Lambach, Lasberg, Laufen, Leonfelden, Leopoldschlag, Mattighofen, Mauthausen, Mondsee, Münzbach, Neufelden, St. Nikola an der Donau, Obernberg, Oberneukirchen, St. Oswald, Ottenschalg, Ottensheim, Pabneukirchen, Perg, Putzleinsdorf, Raab, Reichenau, Ried, Riedau, Riedersdorf, Rohrbach, Sarleinsbach, Sarmingstein, Schärding, Schenkenfelden, Schörfling, Schwanenstadt, Steyr, Urfahr, Vöcklabruck, Vöcklamarkt, Waizenkirchen, Weissenbach, Wels, Weyer, Windhaag, Windischgarsten, St. Wolfgang, Wolfsegg, Zwettl
Salzburg
Salzburg, Abtenau, Bischofshofen, Goldegg, Golling, Hallein, Hofgastein, St. Johann im Pongau, Kuchl, Lofer, Mauterndorf, St. Michael, Mittersill, Neumarkt, Nussdorf, Radstadt, Rauris, Saalfelden, St. Veit, Seekirchen, Strasswalchen, Tamsweg, Taxenbach, Wagrain, Werfen, Zell am See
Steiermark
Graz, Admont, Aflenz, Anger, Arnfels, Aussee, Birkfeld, Bruck an der Mur, Burgau, Ehrenhausen, Eibiswald, Eisenerz, Fehring, Deutsch-Feistritz, Feldbach, Friedberg, Frohnleiten, Fürstenfeld, Gleisdorf, Gnas, Gratkorn, Gratwein, Gröbming, Hartberg, Hochenegg, Ilz, Judenburg, Kapfenberg, Kindberg, Knittelfeld, Köflach, Deutsch-Landsberg, Lankowitz, Leibnitz, Lemberg, Leoben, Leutschach, Mariazell, Mautern, Mooskirchen, Mürzzuschlag, Murau, Mureck, Neumarkt, Obdach, Ober-Wölz, Ober-Zeiring, Passail, Peggau, Pischelsdorf, Pöllau, Radkersburg, Riegersburg, Rottenmann, St. Georgen an der Stiefting, St. Lambrecht, St. Peter am Kammersberg, St. Ruprecht, Schladming, Schwanberg, Seckau, Semriach, Stainz, Strass, Trofaiach, Übelbach, Unzmarkt, Voitsberg, Vorau, Vordernberg, Weisskirchen, Weiz, Wies, Wildon
Kärnten
Klagenfurt, Althofen, Bleiburg, Eisenkappel, Feldkirchen, Friesach, Gmünd, Greifenburg, Gurk, Guttaring, Hermagor, Millstatt, Oberdrauburg, Obervellach, Spittal an der Drau, Strassburg, St. Veit an der Glan, Villach, Völkermarkt, Weitensfeld, Wolfsberg
Tirol
Innsbruck, Anras, Fulpmes, Hall, Hopfgarten, Imst, Kitzbühel, Kufstein, Landeck, Lienz, Matrei, Mieders, Neustift, Rattenberg, Reutte, Schwaz, Sillian, Steinach, Telfs, Thaur, St. Ulrich, Vils, Windisch Matrei, Wörgl
Vorarlberg
Bregenz, Au im Bregenzerwald, Andelsbuch, Bezau und Reuthe, Bludenz, Dornbirn, Feldkirch, Hard, Hohenems, Lauterach, Lustenau, Mittelberg, Schlins, Schwarzach, Schwarzenberg, Wolfurt
Burgenland