Archdiocese of Utrecht
Jump to navigation
Jump to search

ARCHDIOCESE OF UTRECHT (Archidioecesis Ultraiectensis)
Country : Netherlands
Denomination : Roman Catholic
Established : 695 as Diocese of Utrecht
Elevated to Archdiocese in 1559
Abolished 1573
Governed as Apostolic Vicariate of Batavia (Holland Mission/Missio Hollandica), 1592-1727
Elevated to Mission "Sui Iuris" of Batavia (Holland Mission)
Re-established as Archdiocese in 1853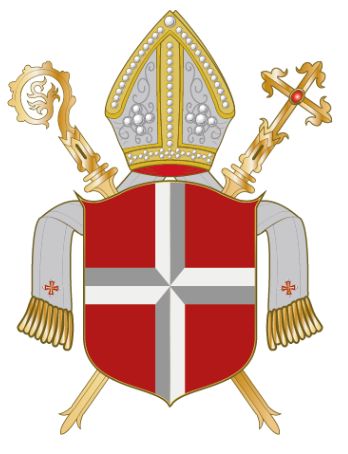 Blazoenering
In keel een kruis van zilver. Het schild gedekt met een gouden, met edelstenen bezette mijter, waarvan ter weerszijden van het schild twee gouden, van keel gevoerde linten met gouden franje afhangen, de uiteinden beladen met een breedarmig kruisje van keel; achter het schild, schuingekruist, een gouden kromstaf, de krul naar buiten gericht, en een gouden, met edelstenen bezet voordraagkruis met lelievormige uiteinden.
Origin/meaning
Het wapen wordt al vele eeuwen gebruikt, maar is officieel verleend op 2 februari 1996.
Het wapen werd officieel aangevraagd ter gelegenheid van het Willibrordjaar 1995 ter herdenking van de wijding van Willibrord als aartsbisschop der Friezen 1300 jaar eerder.
Pieter van Zuden, wijbisschop van Utrecht, is de eerste Utrechtse prelaat die een wapenschild in zijn zegel (1276) voert. Het schild vertoont een kruis. De tweede is Jan (II )van Sierck (tegenzegel 1293) ook met een wapen met een kruis. Diens opvolger Willem (II) van Berthout daarentegen zegelde met zijn aangeboren wapen. Na hem zegelden de Utrechtse bisschoppen verder met een kruis. Sinds Johannes van Diest (1328) belegden de bisschoppen het kruis vaak met een hartschild met hun aangeboren wapen, maar ook andere combinaties komen voor, bijvoorbeeld Jan van Arkel, die het kruis vierendeelde met zijn aangeboren wapen. Het kruis, dat in de begintijd mogelijk nog een persoonlijk teken was, is dan duidelijk verbonden aan het bisdom Utrecht. De kleuren van het wapen - rood met een zilveren kruis - zijn bekend sinds het einde van de veertiende eeuw, wanneer het wapen wordt afgebeeld in verschillende wapenboeken, o.a. van de heraut Gelre, Bellenville en Bergshammer.
The arms were officially granted on February 2, 1996, but have been used since medieval times.
The first auxiliary bishop using the cross was Pieter van Zuden (1276). His successor also used the cross, but Bishop Willem (II) van Berthout used his personal arms on his seals. His successors used again the cross on their seals, sometimes with their personal arms as an inescutcheon. Bishop Jan van Arkel quartered the cross with his personal arms. From the 14th century onwards the cross can thus be seen as the arms of the Diocese of Utrecht.
The colours are known from the end of the 14th century as the arms are shown in several late medieval Rolls of Arms.
Arms of Bishops
No arms are known for the bishops prior to 1296.
Arms of Archbishops (1st creation)
Arms of Apostolic Vicars
Arms of Archbishops (2nd creation)
Arms of Auxiliary Bishops

Literatuur: Ned. Leeuw jg 114 (1997) 282-286; Bisschopswapens van Hans van Heijningen