Basiliek van de HH Agatha en Barbara te Oudenbosch
Jump to navigation
Jump to search

BASILIEK VAN HH AGATHA EN BARBARA te Oudenbosch
I : 22 december 1986.
"Doorsneden I. in sabel schuingekruist een conopeum van goud, waarvan het scherm gebaand van goud en keel, met volants van hetzelfde, om en om , en gevoerd van goud, en een tintinnabulum van goud, waarin een klokje van zilver; II. gedeeld; A. in keel twee gekruiste sleutels, de baarden naar boven gewend, boven vergezeld van een lelie, alles van goud, B. doorsneden; a. in zilver drie geplante bomen van sinopel staande op de doorsnijdingslijn; b. in sinopel drie maliën van zilver, geplaatst twee en één. Devies; CVSTOS HEREDITATIS in zwarte letters op een wit lint."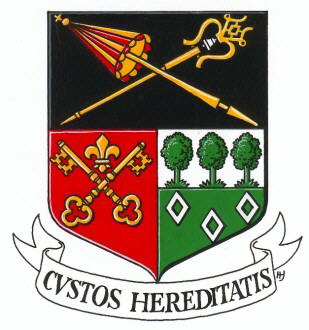 Oorsprong/verklaring
Het wapen bestaat uit de gebruikelijke vormgeving van wapens van basilieken : boven de symbolen van een basiliek, en onder rechts de symbolen van de beschermheilige van de basiliek en links het wapen van de plaats of gemeente waarin de basiliek ligt (hier het wapen van Oudenbosch).
Echter, in dit geval is niet gekozen voor de symbolen van de H. Agatha of de H. Barbara, maar is gekozen voor twee gekruiste sleutels als symbool voor de H. Petrus. Dit omdat de kerk is gebaseerd op de St. Pieter in Rome én omdat gedurende de periode 1684-1870 de basiliek het vertrekpunt was voor de vrijwilligers van het leger van de Kerkelijke staat. De lelie is het symbool van Maria en is afkomstig van het wapen van de abdij van Cîteaux, die nauwe banden had met de streek waarin de basiliek is gelegen.Het devies is afgeleid van een uitspraak van Dr. Schaepman; "Vindicare heriditatem patrorum vestorum"(opkomen voor het geestelijk erfgoed van uwer vaderen), en is een hommage aan de pastoor en de gelovigen die de bouw van de basiliek mogelijk maakten.

Literatuur: Daae, 1995.