Hackney


Heraldry of the World

British heraldry portal
Civic heraldry of the United Kingdom

---
Overseas possessions
---
Total pages in the British section : 3,057
HACKNEY
Additions : 1965 Shoreditch, Stoke Newington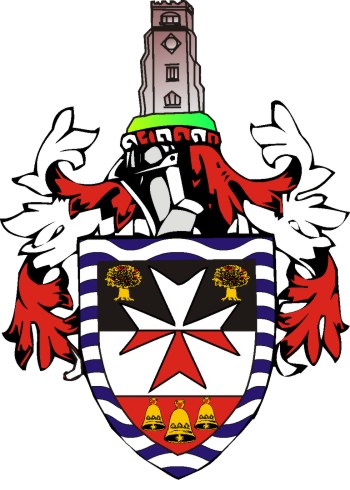 Official blazon
Arms: Per fess in chief per fess Sable and Argent a Maltese Cross per fess Argent and Gules between two Oak Trees eradicated Or fructed Gules and in the base Gules three Bells Or the whole within a Bordure barruly wavy Argent and Azure.
Crest: On a Wreath Argent and Gules on a Mount Vert a representation of the Tower of the Ancient Parish Church of St. Augustine Hackney proper.
Origin/meaning
The arms were officially granted on July 29, 1969.
The tower is taken from the previous arms (see below) and is the tower of St. Augustine's Church and is the only part of the 13th century fabric that still remains. The Manor of Hackney was held by the Order of the Knights of the Temple and later the Knights of the hospital of Saint John, which are symbolised by the cross. The colour of their robes were silver and black, which is further symbolised in the chief of the new arms.
The border of blue and white wavy lines represents the water of the rivers and canals on or near the borough's boundaries.
After the merger the oak trees of the former arms of Stoke Newington were added in the chief.
The old, unofficial, arms of Shoreditch were not added to the new Hackney arms. Instead three bells, symbolising the St. Leonard's Church in Shoreditch, as well as the three former boroughs, were added in the base of the shield.
The tower was moved to the crest in the new arms and placed on a green mound, representing the island in the river Lea, where Hackney was founded.
Metropolitan Borough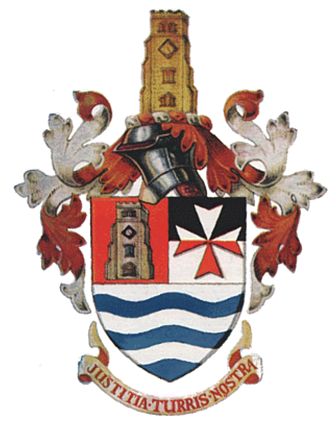 Official blazon
Arms: Per fesse the chief per pale gules and per fesse Sable and Argent and the base barry wavy of six Argent and Azure in the dexter chief a representation of the Hackney Tower proper and in the sinister chief a Maltese Cross per fesse Argent and Gules.
Crest: On a Wreath of the Colours a representation of the Hackney Tower Or.
Motto: 'JUSTITIA TURRIS NOSTRA'-Justice is our tower.
Origin/meaning
The arms were officially granted on March 31, 1924.
The tower is the tower of St. Augustine's Church (see above).
The Maltese Cross stands for the Knights of the Temple and the Knights of the Hospital of St John of Jerusalem, who successively held the Manor of Hackney. The Templars' cross was red on white, that of the Hospitallers white on black, and these colours are combined in the arms. The wavy white and blue bars represent the rivers and canals in and bounding the Borough. In years past the River Lea at Hackney was a much wider river than at present, as it overflowed the marshes and lowlands which are now within the Borough.
Literature : Scott-Giles, C.W. : Civic heraldry of England and Wales, London, 1932; Information leaflet provided by the Borough of <a href=http://www.hackney.gov.uk>Hackney]].