Holland (county)
Jump to navigation
Jump to search

GRAAFSCHAP HOLLAND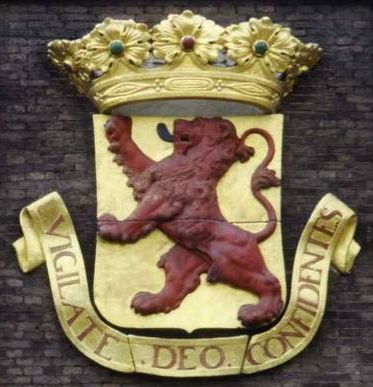 Oorsprong/Verklaring
De oudste afbeelding van een wapen voor Holland dateert uit 1198 op een zegel van graaf Dirk VII. Het zegel vertoont een ruiter met voor zich een schild, waarop een leeuw. Ook op een vergelijkbaar zegel van zijn broer Willem, met afdruk uit 1205, staat een leeuw op een schild. De kleuren van het wapen zijn bekend uit 1254, op een wapenrol worden ze vermeld als zijnde een rode leeuw op een gouden veld. In dezelfde eeuw verschijnen er al afbeeldingen van de leeuw met blauwe nagels en tong.
De leeuw is verder in de loop der eeuwen niet meer gewijzigd. De leeuw werd gevoerd door alle opvolgende graven van Holland, de Staten van Holland, tijdens de Franse Tijd en ook in de vorige eeuw, waarbij het wapen zowel voor Noord- als Zuid-Holland werd gebruikt. Wel zijn er in de loop der tijd allerlei versieringen aan het wapen toegevoegd.
Nadat het Hollandse gravenhuis in 1299 was uitgestorven kwam het gebied aan Jan van Avesnes, graaf van Henegouwen. Hij voerde als wapen niet de kepers van Henegouwen, maar de Vlaamse leeuw. Hij was benoemd tot graaf van Vlaanderen, maar was aldaar in een grote machtsstrijd verwikkeld en kon zijn gezag daar niet goed vestigen. Hij voerde als wapen een gevierendeeld schild met de Hollandse en Henegouwse leeuw. Ook zijn opvolgers voerden deze combinatie. In de gemeentewapens komt deze combinatie oa voor bij Tholen, Beverwijk, Rotterdam en Poortvliet, plaatsen die stedelijke rechten verkregen onder de graven van Holland-Henegouwen.
In 1346 kwam het graafschap aan Willem V van Beieren. Hij voerde als wapen een gevierendeeld schild met het schild van Beieren gevierendeeld met de vier leeuwen van Holland Henegouwen. Deze combinatie komt oa voor bij Goes en Reimerswaal. Aan het gebruik van dit, drukke, wapen kwam een eind met Filips de Goede in de 15e eeuw. Sindsdien wordt de leeuw weer enkelvoudig afgebeeld.
Op het zegel van Willem V komt voor het eerst ook de zgn Hollandse Tuin voor. Dit is een hekwerk dat om het wapen wordt geplaatst. Wat precies de oorsprong hiervan is is niet bekend. De Hollandse tuin werd, met enkele onderbrekingen, gebruikt tot 1806. Een dergelijke tuin werd ook gevoerd door diverse Hollandse steden. Tegenwoordig voeren alleen Geertruidenberg en Gent (Belgie) nog een dergelijke tuin rond het wapen.
In de loop der eeuwen werd het wapen ook afgebeeld met schildhoudende leeuwen of een enkele leeuw met opgeheven zwaard achter het wapen. Ook zijn er diverse kronen in gebruik geweest. De huidige schildhouders van Zuid-Holland werden pas deze eeuw toegevoegd. De spreuk onder het huidige wapen werd in de 16e eeuw ingevoerd, maar werd nauwelijks als wapenspreuk gebruikt. De spreuk kwam wel voor op munten als randschrift.
Het wapen van Holland komt in veel andere wapens voor. De Hollandse graven probeerden hun gebied op veen plaatsen uit te breiden en verspreiden daarmee ook de leeuw. De Hollandse leeuw komt dan ook voor bij Overijssel, Utrecht en Zeeland, alsmede een aantal gemeentewapens. De Staten van Holland waren de machtigste in de Republiek en het wapen van de Staten Generaal (en de Republiek) was dan ook de Hollandse leeuw met pijlen en zwaard.

English
"Or, a lion rampant gules, armed and langued azure. The shield is crested by a coronet of four pearls between five leaves or. Supporters: two lions rampant gules, armed and langued azure. On a golden ribbon the motto VIGILATE DEO CONFIDENTES in red lettering."
The arms are known since the end of the 12th century. In the 14th century the arms were quartered with the arms of the county of Henegouwen (Hainaut), resulting in a shield with four lions (see f.e. Tholen, Beverwijk, Rotterdam and Poortvliet, cities which were granted city rights in the 14th century). Later the counts quartered the Holland-Hengouwen arms with Bavaria, as the new family was a branch of the Wittelsbach family (who were kings of Bavaria). These arms can be seen in the arms of Goes and Reimerswaal.
Since the 15th century only the original lion is the arms of Holland. The lion was often placed in a so-called Garden of Holland, a fence surrounding the shield. Not only the provincial government, but also many cities in Holland used this symbol. Nowadays only Geertruidenberg and Gent (Belgium)]] use the Garden of Holland. As both the counts of Holland as the provincial government were quite influential, the lion of Holland is present in many arms, f.e. in the arms of the provinces of Overijssel, Utrecht and Zeeland. The motto was introduced in the 16th century. The motto, "Vigilate Deo Confidentes", means "Be on guard, trusting in God".

Literatuur: De Vries, 1995