National Arms of Turkey
Jump to navigation
Jump to search
NATIONAL ARMS OF TURKEY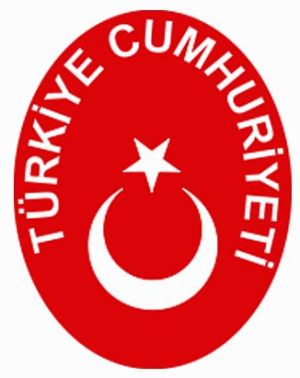 National Emblem
Since the creation of the Turkish State in 1923 the country has not used arms, only the above emblem.
The predecessor, the Ottoman Empire also did not use proper heraldic arms, but used the composition below, which was officially adopted on April 17, 1882.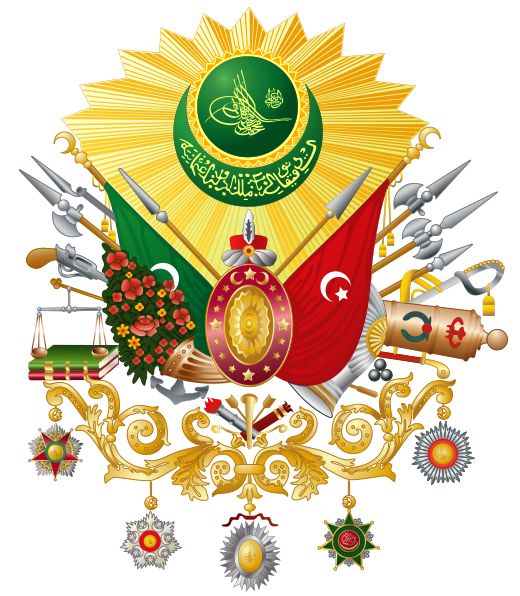 The composition shows the tughra, the symbol of the Sultans. It is surrounded by two flags: the red flag of the Ottoman dynasty with a star and crescent, and the green flag of the Islamic caliph, largely obscured by a cornucopia.
Behind the flags are a number of spears and other weapons, scales and a book for justice as well as an anchor and torch. The sun behind it all shows the name of the country and a green crescent.
Hanging beneath the symbol are the medals of five of the Ottoman decorations, the Şefkat Nişanı, Osmani Nişanı, İmtiyaz Nişanı, Mecidiye Nişanı, and İftihar Nişanı.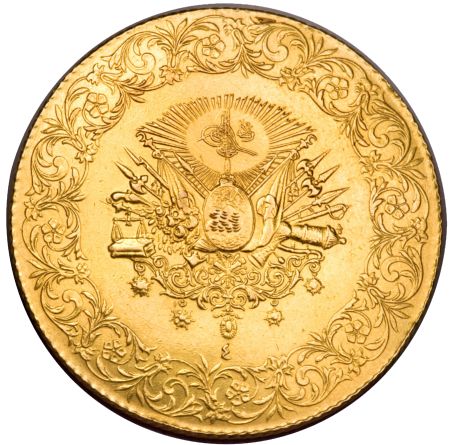 The Ottoman arms on a coin from 1912 (image from auction site)
Sometimes, in rolls of arms and stamps, only the name of the country was used: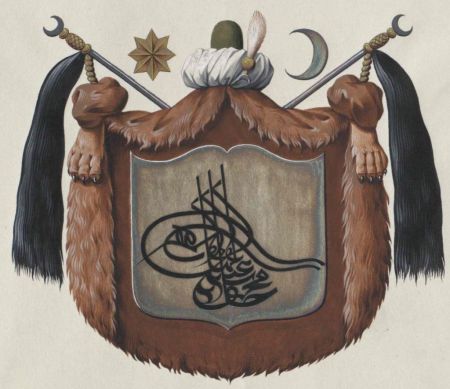 The Ottoman arms in the 19th century
The use in collector's items has shown different variations of the arms with crescent and star, but the Ottoman arms I have never encountered: