Armenia
Jump to navigation
Jump to search
Armenia - Hayastani Hanrapetut'yun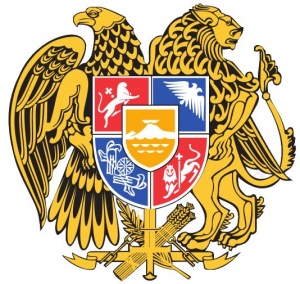 National symbols
Administrative division
Armenia is divided into ten provinces (marzer, singular marz), with the city of Yerevan having special administrative status as the country's capital.
Within each province are communities (hamaynkner, singular hamaynk). Each community is self-governing and consists of one or more settlements (bnakavayrer, singular bnakavayr). Settlements are classified as either towns (kaghakner, singular kaghak) or villages (gyugher, singular gyugh).
As of 2007, Armenia includes 915 communities, of which 49 are considered urban and 866 are considered rural. The capital, Yerevan, also has the status of a community. Additionally, Yerevan is divided into twelve semi-autonomous districts.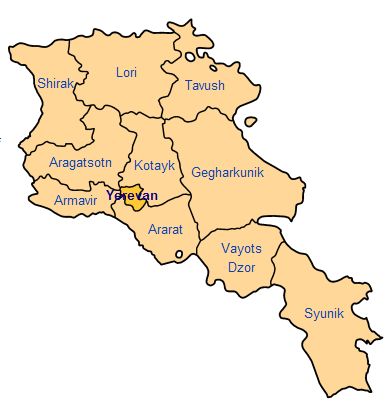 The present (since 2007) provinces of Armenia.
Armenia has no heraldic tradition, therefore only a few towns have a proper coat of arms, and none of the provinces has any.
Other heraldry