Autogramm- und Ansichtskarten
Jump to navigation
Jump to search
Union Autogramm- und Ansichtskarten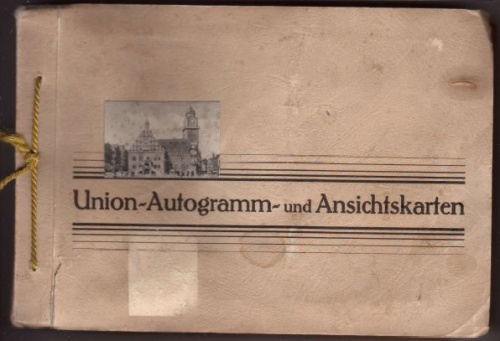 Album information :
Issued by : Union, Dresden , Germany
Date of issue : 1936
Number of stamps/cards : 120
Image variants : There are cards with different texts on the background of the cards, with and without the serial number (see images below).
Background
The Union cigarette company started in 1936 with a rather unique type of card; looking like a miniture postcard, which could be adressed and given to someone. The cards could be placed in an album, which had some pages where one could write from whom you received the postcards. The album has no other texts than the name of the towns.
The small postcards showed on the left a picture of the town and on the right the town arms. The back of the cards is printed like a small postcard and gives information on the company and its products, as well as a pre-printed (fake) stamp and space for address and name. In total 120 different cards were issued of towns in Germany and old German cities in Poland.
Images of the two variations of the back:
The cards could also actually be used and send as can be seen in the example below.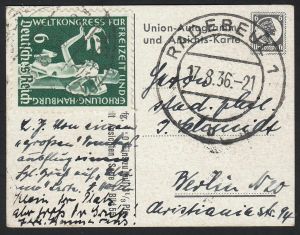 The pages to collect signatures:
The album pages:
Click on images to enlarge