Basler Wappen Kalender
Jump to navigation
Jump to search
Basler Wappen Kalender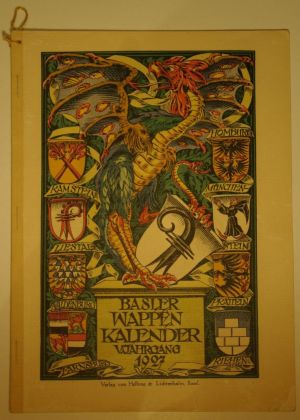 Series information :
Date of issue : ?
Number of calendars: ?
Variants : -
Series
This is a series of large (20.5x27 cm) paper book calendars printed by Helbing und Lichtenhahn, Basel, Switzerland. I have no idea how many have been issued, they stared in 1917 and the latest I know of is 1927.
The inside shows on the left page the monthly calendar with namedays, and on the right an heraldic drawing, which is further explained with genealogical or background data at the end of the booklet. These were written by W.R. Staehelin.
An example of the inside: