Category:Provinces of Argentina
Jump to navigation
Jump to search
Coats of arms of Provinces of Argentina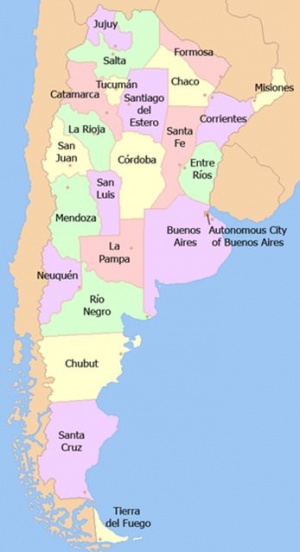 Argentina is subdivided into twenty-three provinces (Spanish: provincias, singular provincia) and one autonomous city (Ciudad autónoma de Buenos Aires, informally the Capital Federal). The city and the provinces have their own constitutions, but exist under a federal system.
Provinces are then divided into departments (Spanish: departamentos, singular departamento), except for Buenos Aires Province, which is divided into partidos.
The Tierra del Fuego Province also claims a large part of Antarctica as well as the Falkland Islands, but these claims are not internationally recognised.
The provinces generally do not use real coats of arms, most use a kind of round shield and some only use a logo. For completeness of the site, all are included.
Pages in category "Provinces of Argentina"
The following 23 pages are in this category, out of 23 total.