Deutscher Haus Kalender
Jump to navigation
Jump to search
Deutscher Haus Kalender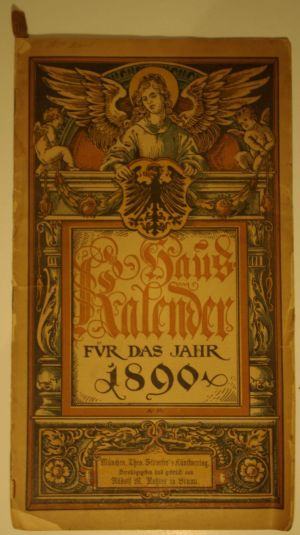 Series information :
Date of issue : ?
Number of calendars: ?
Variants : -
Series
This is a series of large (18x33 cm) paper book calendars printed by Theo Stroesers Kunstverlag, München, Germany. I have no idea how many have been issued, as I only know of 1889, 1890 and 1894.They are quite similar in design to the Münchener Kalenders and the two were probably competitors.
The author is only known by the initials A.M.
The inside shows the monthly calendar and some heraldic images, which seem to bear no relation to families, towns or similar. On the inside cover there is a description of the year with astronomical and astrological data.
An example of the inside:
The known calendars: