Samoa
Jump to navigation
Jump to search
Samoa - Malo Sa'oloto Tuto'atasi o Samoa
| | | |
| --- | --- | --- |
| | | |
| The National Arms of Samoa | The National Flag | Location |
Administrative division
Samoa is made up of eleven itūmālō (political districts). These are the traditional eleven districts that were established well before European arrival.
The districts are:
Tuamasaga
A'ana
Aiga-i-le-Tai
Atua
Va'a-o-Fonoti
Fa'asaleleaga
Gaga'emauga
Gaga'ifomauga
Vaisigano
Satupa'itea
Palauli
As far as I know, none of these uses arms.
National arms of Samoa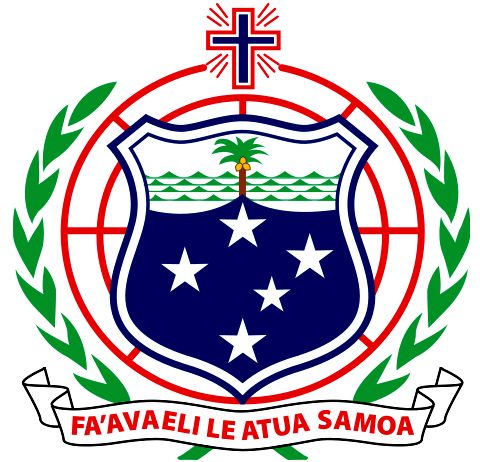 The arms were adopted in 1951 and only slightly changed after independence in 1962. The arms show the constellation of the Southern cross. The chief shows a palm tree above waves, symbolising the islands. The shield is placed on the logo of the United Nations, to indicate that the island were for some time a UN trust area. The cross symbolises Christianity. The motto means "God is the base for Samoa".
In 1899 Germany and the US occupied the Samoa archipelago. The oldest arms for the German part were designed in 1914 and showed, like the other German colonies, the Prussian eagle in a chief. For Samoa the shield showed three silver palm trees above waves. The arms were as far as I know never officially used, as in the same year New Zealand troops occupied the island.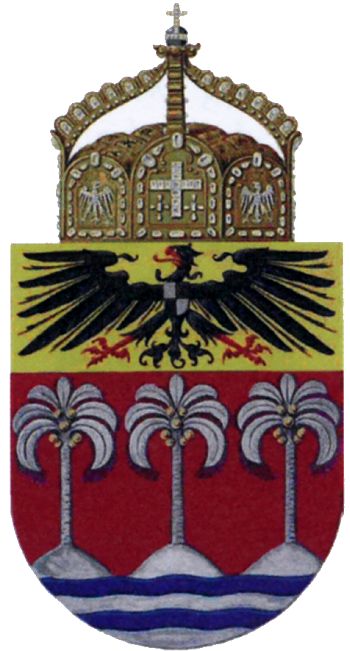 The arms from 1914
In 1920 West-Samoa became a UN trust area governed by New Zealand, the other part of the islands was (and is) still US territory. In 1920 West-Samoa adopted a logo with the three palm trees from the old arms.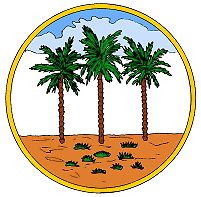 The logo from 1920-1951
This logo was used until 1951 when the present arms were adopted, with the exception of the cross. Only after independence the sun was replaced by the cross.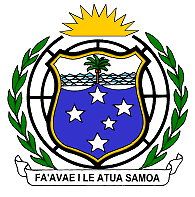 The arms from April 12, 1951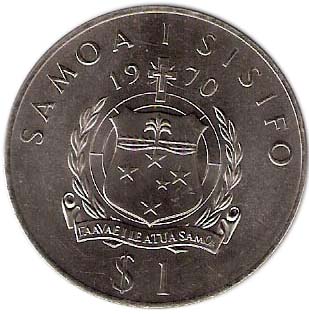 The arms on a coin
Kingdom of Samoa
Before the Europeans divided the islands, a tribal structure existed under a (non hereditary) king. The Kingdom used arms, as shown below.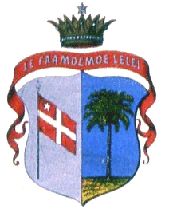 The arms showed the Samoan flag, plus a palm tree. The motto "LE FAAMOEMOE LELEI" can be translated as "Virtue is our hope".
Heraldic collector's items