Category:Nederlands Dorpswapen
NEDERLANDSE DORPSWAPENS
Nederland kent geen traditie van het gebruik van dorpswapens. In vroeger tijd waren veel dorpen een eigen heerlijkheid en bezaten ze een eigen schepenbank. De meeste van die dorpen zijn later opgegaan in (veelal) gelijknamige gemeenten. Deze gemeenten voerden dan ook meestal het wapen van het grootste dorp. Deze wapens zijn beschreven in de sectie over gemeentewapens. Echter, er zijn een aantal dorpen, waarvan wel een wapen bekend is, maar die geen eigen gemeente zijn geworden. Ook zijn er in Friesland een groot aantal dorpen met een eigen wapen, terwijl de gemeenten daar gebaseerd zijn op de oude grietenijen, niet op de dorpen. Tenslotte zijn er in Noord-Brabant door de Noordbrabantse Commissie voor Wapen en Vlaggenkunde een aantal dorpswapens ontworpen. De meeste van deze wapens zijn behandeld bij de afzonderlijke gemeenten. Ook hier zijn er echter een aantal dorpen, die nooit een eigen gemeente zijn geweest. Deze wapens zijn hieronder beschreven.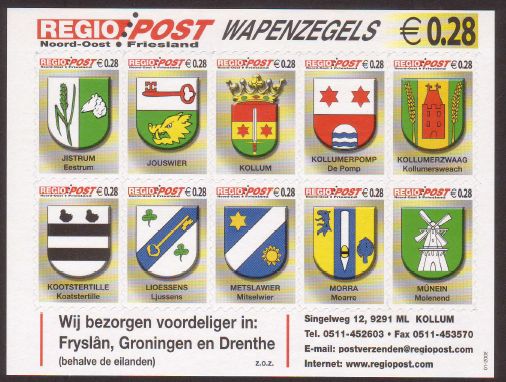 Een serie dorpswapens op lokale postzegels (Regiopost)
De dorpswapens zijn niet opgenomen in het Register van de Hoge Raad van Adel, worden, in tegenstelling tot de gemeentewapens, niet officieel verleend en genieten dus ook geen wettelijke bescherming. Bescherming is alleen mogelijk via lokale verordeningen.
Opmerkingen bij de index:

De Friese dorpen staat onder de Friese naam
Verdronken dorpen in Zeeland staan onder de Heerlijkheidswapens
Pages in category "Nederlands Dorpswapen"
The following 281 pages are in this category, out of 281 total.