De Falom
Jump to navigation
Jump to search
DE FALOM - VALOM
Provincie : Fryslân (Friesland)
Gemeente : Dantumadeel
Het volgende dorpswapen is bekend :
" Gedeeld van goud en blauw, over alles heen een golvende keper van blauw in het goud en van zilver in het blauw, beladen met twee naar elkaar toegewende vissen, geplaatst in de richting van de keper, van zilver in het blauw en van blauw in het zilver; de keper in het schildhoofd van een blauwe cichoreibloem en een zilveren penning, en in de schildvoet van een turf van blauw in het goud en van zilver in het blauw."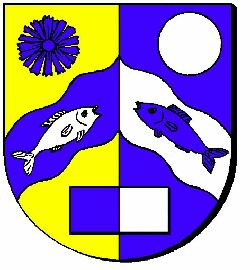 Oorsprong/verklaring
Het voormalige buurtschap De Valom is sinds 1964 een zelfstandig dorp. Het is ontstaan door verveningsactiviteiten, welke in de 16de eeuw zijn begonnen. Ook de Valomstervaart is toen gegraven om overtollig water kwijt te raken en om de turf af te voeren. Het grote nadeel van deze vaart was, dat zout water, dat in het gebied ten oosten aanwezig was, het land in kon dringen. Dit was te voorkomen geweest door een sluis aan te brengen, doch deze is er nooit gekomen. Om financiële redenen heeft men gekozen voor een z.g. overtoom of valom. Dit was een constructie waar een schip overheen kon worden getrokken en zo het zoute water en zoete water gescheiden kon blijven. Hieraan heeft het dorp zijn naam te danken. Een en ander is in het wapen gesymboliseerd door de gedeelde keper, die de vaart, de valom en het zoute en zoute water voorstelt; zoet door blauw en zout door zilver. De vissen vormen een verwijzing naar de eens zo belangrijke visserij, terwijl de cichoreibloem in het schildhoofd (eigenlijk een streeksymbool) een verwijzing is naar de oorspronkelijke cichoreiteelt in deze omstreken. De zilveren penning verwijst naar het tolhuis en herberg, welke een belangrijke pleisterplaats bij de brug was. De vervening wordt natuurlijk door de turf in de schildvoet weergegeven. Normaal wordt een turf in een wapen meestal als zwart (soms goud of zilver) blokje, doch hier is gekozen voor blauw en zilver. Het blauw geeft hierbij aan dat de turf uit het water wordt gebaggerd, terwijl het zilveren deel wijst op het hoge zoutgehalte van de turf uit deze gebieden.

Follow us :



(when sharing images on Instagram, use #heraldryoftheworld)


Literatuur : Afbeelding en informatie verkregen van de Fryske Rie foar Heraldyk