Grubbenvorst
Jump to navigation
Jump to search
GRUBBENVORST
Provincie : Limburg
Opheffing : 2001 Horst aan de Maas
Toevoegingen : -
I : 3 september 1931
"Gedeeld : I in azuur een verhoogde dwarsbalk van goud, vergezeld van een zespuntige ster van hetzelfde in den rechterbovenhoek, II in keel een schuinslinks gestelde baars van zilver, vergezeld van boven van een kruis van goud. Achter het schild staande en met den linker-onderarm daarop steunende de figuur van den H.Johannes den Dooper, gekleed van kemelshaar en met een lederen gordel om de lendenen, alles van natuurlijke kleur, dragende op den rechterarm een zilveren lam, en houdende in de linkerhand een houten kruisstaf van natuurlijke kleur, waaraan onder het kruis een wimpel van zilver is bevestigd."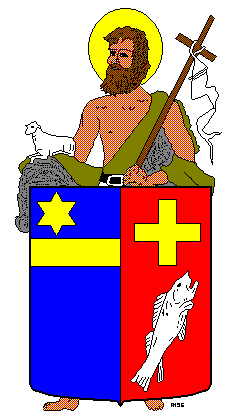 Oorsprong/verklaring
Grubbenvorst wordt waarschijnlijk voor het eerst genoemd in een acte uit 1144, waarin sprake is van Vurst. Het was een heerlijkheid in leen van Gelre. De heerlijkheid was een gedeeld bezit; gedeeltelijk in bezit van de kasteelheren van Grubbenvorst, gedeeltelijk van de bewoners van de ridderhofstad Baersdonck.
De oudst bekende (kasteel)heer is Willem de Milne, of Willem Van Millen. Hij wordt als heer genoemd in 1311. Het geslachtswapen van deze familie is een dwarsbalk, in het schildhoofd vergezeld van een ster. De andere helft was aan het eind der 14e eeuw in handen van een familie die zich Van Baersdonck noemde. Het wapen van de familie is niet bekend, maar waarschijnlijk is de linkerhelft van het wapen van het familiewapen afgeleid. De baars als sprekend figuur. Tevens is er een Gelders geslacht bekend met dezelfde naam, dat behalve een baars ook een kort kruisje in het schildhoofd voerde. Of het hier om hetzelfde geslacht gaat is echter niet duidelijk.
Beide delen van de heerlijkheid zijn in de loop der eeuwen in de handen van een groot aantal geslachten geweest. Pas in 1755 kwamen ze in de handen van hetzelfde geslacht, Van Hoensbroek, en werd het een enkele heerlijkheid.
Er is maar een schependomszegel bekend, met als oudst bekende afdruk een afdruk uit 1547. Dit zegel vertoont reeds het huidige wapen, echter zonder de heilige. De heilige werd in 1931 toegevoegd en is de parochieheilige. Een aan de H. Johannes de Doper gewijde kapel werd reeds in 1440 vermeld.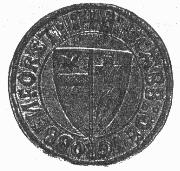 Het zegel van Grubbenvorst uit 1547. (Uit Frankewitz en Venner, 1987, zegel nr 54)
Behalve uit de heerlijkheid Grubbenvorst is de gemeente ook ontstaan uit de heerlijkheid Lottum. Deze heerlijkheid, die nooit een eigen gemeente is geweest, voerde als wapen een schild met 9 koeken. Het wapen komt ook voor op schependomszegels sinds 1651, waarbij het van achteren gehouden wordt door de H. Quirinius en H. Gertrudis. Het is niet bekend waar het wapen vandaan komt. Het is niet afgeleid van een van de bezitters van de heerlijkheid. Het is mogelijk dat het afgeleid is van een van de abdissen van het klooster van Sint Quirinius te Neuss, waartoe Lottum tot 1555 behoorde.
De gemeente vroeg in februari 1928 een wapen aan, waarop de Hoge Raad van Adel in juli antwoordde. Het ingediende ontwerp bestond uit twee naast elkaar geplaatste schilden, rechts het later verleende wapen, en links het wapen van Lottum. De Raad vond echter dat twee schilden voor een gemeente niet mogelijk waren en tevens dat het rechterwapen de gemeente voldoende symboliseerde. Het wapen van Lottum zou dus komen te vervallen.
Als alternatief gaf de Raad nog een voorstel met het later verleende wapen met daarin een schildhoofd met 9 penningen, afgeleid van het wapen van Lottum.
Uiteindelijk is in 1931 het wapen verleend.

Poststempel 1986


Briefhoofd, +/- 1985


Poststempel 1989
English summary
The right part of the arms is derived from the arms of the oldest known Lord of Grubbenvorst, Willem van Millen in 1311. The local Estate was a joined possession by two families, the Van Millen and the Van Baersdonck families. The arms of the latter family is not known, but it is likely that the left half of the arms symbolises the Van Baersdonck family. The fish is described as a canting baars (perch). The two arms are already combined on the oldest known seal of the village, dating from 1547 (see image). Even though the Estate was owned by many different families, the arms did not change.
The supporter is St. John, the local patron saint.
___________________________________________________________
Rate these arms / rate this page :
(no information about you is stored when voting, only the vote itself is stored)

Follow us on

Literatuur : Eversen en Meulleneers, 1900; Brief dd 10-04-1996 van Dhr. Van der Vijver, Historische Kring Grubbenvorst-Lottum; Frankewitz en Venner, 1987