Harskamp: Difference between revisions
Jump to navigation
Jump to search
m

Line 20:
Line 20:

[[Civic Heraldry Literature - Netherlands (Heraldische literatuur - Nederland)|Literatuur]] :  http://www.heraldischedatabank.nl/databank/indeling/detail?q_searchfield=Harscamp; Vexilla Nostra #150, mei-juni 1987.

[[Civic Heraldry Literature - Netherlands (Heraldische literatuur - Nederland)|Literatuur]] :  http://www.heraldischedatabank.nl/databank/indeling/detail?q_searchfield=Harscamp; Vexilla Nostra #150, mei-juni 1987.






[[File:netherlands.jpg|50 px|Link=Netherlands]][[Category:Nederlandse gemeentewapens H]]

[[Category:Nederlandse gemeentewapens H]]

[[Category:Gelderland]]

[[Category:Gelderland]]

[[Category:Nederlands Dorpswapen]]

[[Category:Nederlands Dorpswapen]]
---
Revision as of 06:12, 21 September 2018
HARSKAMP
Provincie  : Gelderland
Gemeente  : Ede
Het volgende dorpswapen is bekend :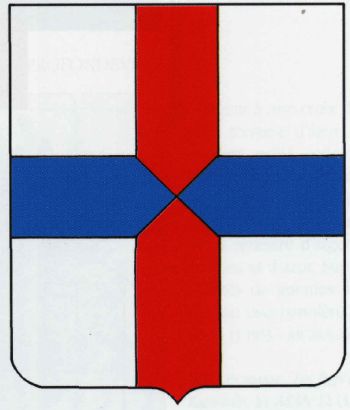 Oorsprong/verklaring
Dit wapen is afgeleid van het wapen van de familie Van Harscamp, maar een verband tussen de familie en het dorp is niet bekend. Het wapen wordt ook gebruikt door de gemeentes Noville-les-Bois en Profondeville in België, bezittingen van de familie Van Harscamp.
Het wapen is bekend vanuit de 17e eeuw (Belgische tak) begin 18e eeuw (Utrechtse tak). De familie komt oorspronkelijk uit de buurt van Arnhem, en waren oa burgemeesters in Utrecht en zeer invloedrijk in de huidige provincie Namen in België.
In de 70er jaren van de 20e eeuw vond Anton Jansen uit het dorp in het Centraal Bureau voor Genealogie het wapen Harskamp voor Everard van Harscamp, Secretaris van het gerecht van Utrecht 1674 en Dijk- of watergraaf in de vrijheid om Utrecht 1701. Omdat de familie uit Arnhem kwam, vermoedde hij een relatie met het dorp en hij wist te bewerkstelligen dat het wapen in 1980 als dorpswapen werd ingevoerd. Het is echter niet bekrachtigd door de gemeenteraad van Ede en heeft dus geen officiële status.
---
Heraldry of the World is a private site and maintained as a hobby, which takes a lot of time and effort (and costs).
If you like this initiative, please support the site:

Please visit our partners (click on image):
---
© since 1995, Heraldry of the World, Ralf Hartemink
Literatuur : http://www.heraldischedatabank.nl/databank/indeling/detail?q_searchfield=Harscamp; Vexilla Nostra #150, mei-juni 1987.