Leusden
Jump to navigation
Jump to search
LEUSDEN
Provincie : Utrecht
Opheffing : -
Toevoegingen : 1969 Stoutenburg
I : 10 mei 1951
"Gevierendeeld : I en IV in keel een kruis van zilver, II in goud een uitgestulpt St.Andrieskruis van sabel, III in goud 3 kruikebladeren van sinopel, staande 2 en 1. Het schild gedekt met een gouden kroon van 3 bladeren en 2 paarlen."
II : 12 mei 1969
"Gevierendeeld : I in goud 3 gesteelde plompebladeren van sinopel, II in zilver 6 lelies van keel, geplaatst 3,2 en 1, III in keel een kruis van zilver, IV in goud een groot-uitgeschulpt schuinkruis van sabel. Het schild gedekt met een gouden kroon van 3 bladeren en 2 paarlen."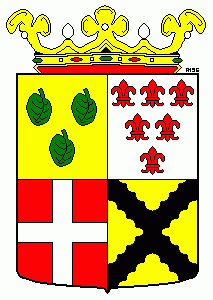 Oorsprong/verklaring
De vier onderdelen in beide wapens zijn ontleend aan de volgende historische gegevens:

Het zilveren kruis is het wapen van het Sticht Utrecht. Dit ter herinnering aan het feit dat Karel de Grote in 777 het landgoed Lisiduna aan de St.Maartenskerk in Utrecht schonk. De heerlijkheid Leusden behoorde sindsdien tot het sticht Utrecht.
Het St. Andrieskruis is het wapen van de ridderhofstad Lockhorst ter plaatse. De eerste heer van Lockhorst, Adam, wordt al in 1200 vermeld. De familie had behalve in Leusden ook bezittingen in Hoogland en Sliedrecht. Het wapen van deze familie komt dan ook terug in de wapens van beide gemeenten.
De plompebladeren zijn het wapen van de ambachtsheerlijkheid Leusden en werden als wapen ook door de gemeente gevoerd tot 1951. Het wapen van de heerlijkheid werd door de Hoge Raad van Adel op 30 september 1818 bevestigd. De plompebladeren worden als heerlijkheidswapen al vermeld op een kaart uit 1705.
De lelies zijn het wapen van de familie en ambachtsheerlijkheid Stoutenburg. De familie Van Stoutenburg was een tak van de familie Van Amersfoort, die eveneens de lelies voerde (vgl Hoevelaken). De gemeente Stoutenburg voerde een sprekend wapen. Na de hereniging is het meer historische heerlijkheidswapen in het wapen van Leusden geplaatst.
In 1950 werd voor het eerst een poging ondernomen door de gemeente om een officieel wapen te krijgen. In de gemeenteraadsvergadering van 28 februari 1950 stelde het college van B&W een wapen voor, bestaande uit het torentje van Oud-Leusden 'tegen een achtergrond van bladgroen in een geel-bruin veld' Vanuit de raad kwam bezwaar tegen de kleuren en werd het voorstel geopperd om een wapen te ontwerpen met vier kwartieren, die ieder een onderdeel van de geschiedenis van Leusden zouden moeten afbeelden. In de raadsvergadering van 31 mei 1950 werd een nieuw voorstel gelanceerd; een wapen dat 'in drie verticale banen van afwisseld zilver, zwart en zilver, telkenmale het cijfer 7 voert'. Het aldus gevormde cijfer 777 slaat op de oudste vermelding van het dorp Leusden in het jaar 777, zie boven.
De gemeenteraad ging met dit voorstel unaniem accoord. Dit voorstel werd door de Hoge Raad van Adel afgekeurd en uiteindelijk stelde de Hoge Raad van Adel het wapen voor wat ook uiteindelijk is verleend. Ook in 1969 was er niet direct overeenstemming. Van de door Mr. Bontekoe ingediende twee ontwerpen bij de gemeenteraad werd het door de raad gekozen ontwerp (zie hieronder) uiteindelijk de de Hoge Raad van Adel verworpen, omdat het oude wapen van Stoutenburg geen historische betekenis had. In het uiteindelijke wapen is het oude Stoutenburgse wapen dan ook vervangen door de lelies.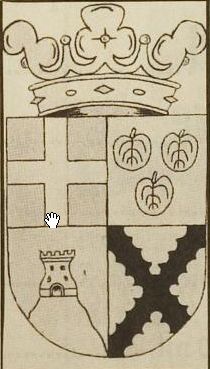 Het door de gemeenteraad gekozen ontwerp in 1969.

Poststempel 1985


Het wapen op het gemeentehuis


Het wapen op een persoonlijke postzegel
English summary :
The silver cross is the arms of the diocese and Bishops of Utrecht. The Estate of Lisiduna was granted to the cathedral church in Utrecht by Charlemagne in 777. Ever since the Estate of Leusden belonged to the bishops.
The black cross is taken from the Manor of Lockhorst in the municipality. The cross is taken from the arms of the Lords of Lockhorst and can also be seen in the arms of Hoogland and Sliedrecht.
The water lily leaves are the proper arms of the Leusden Estate and were unofficially used by the council prior to 1951.
The fleur-de-lis are the arms of the Lords and the Estate of Stoutenburg, which was incorporated into Leusden in 1969.

Follow us :



(when sharing images on Instagram, use #heraldryoftheworld)


Literatuur : Sierksma, 1962; Den Uyl, 1957; Caarte van den Slaperdijk, streckende van de Stichtse Bergen tot aan de hoogte van Gelderland. Kaart van J. van Broekhuysen, 1705.