Deutsche Wappen Kalender
Jump to navigation
Jump to search
Deutscher Wappen Kalender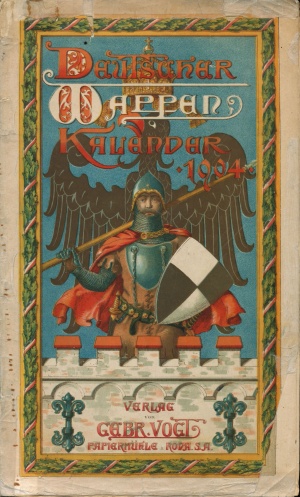 There have been at least two different types of heraldic calendars with this name.
The oldest I am aware of dates from 1904. This is a large (18x33 cm) calendar printed by Vogt, Papiermühle, Sachsen (image shown above). The inside shows the monthly calendar and some heraldic images of towns and states.

I have no idea how long this series was issued.
Second series
Then there is a later series, issued from 1920-1940. These are smaller, A5 size, each with a different theme:
1920 Deutsche Führer im Weltkrieg (leaders in the 1st World War)
1921 Deutsche Dichter (poets)
1922 Deutsche Schmieder (smiths)
1923-1929 not issued due to the financial crisis
1930 Deutsche Staatsmänner (politicians)
1931 Deutsche Kaufleute (merchants)
1932 Deutsche Maler (painters) (the whole calendar: File:Wappenkalender-1932.pdf)
1933 Deutsche Rechtslehrer (professors in law)
1934 Deutsche Buchhändler (book sellers)
1935 Deutsche Ärtzte (doctors of medicine)
1936 Deutsche Wettkämpfer (olympians)
1937 Deutsche Weinhändler (wine merchants)
1938 Deutsche Erfinder (inventors)
1939 Deutsche Baumeister (builders) (the whole calendar: File:Wappenkalender-1939.pdf)
1940 ?
This series was edited and written by Dr. Bernhard Koerner,member of the Prussian College of Arms in Berlin, and issued by Starke, Görlitz.