National Arms of Estonia
Jump to navigation
Jump to search
NATIONAL COAT OF ARMS OF ESTONIA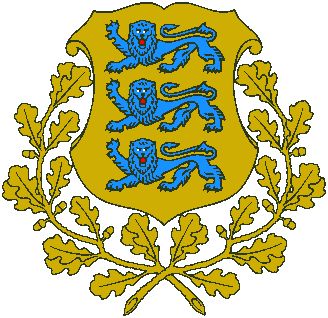 Official blazon
(ee) Suurel riigivapil on kuldsel kilbil kolm sinist sammuvat otsavaatavat lõvi. Külgedelt ja alt ümbritsevad kilpi kaks kilbi allosas ristuvat kuldset tammeoksa.
Origin/meaning
The arms of the Republic of Estonia were adopted on June 19, 1925 and again on October 16, 1990.
The country uses two versions, the large coat of arms as shown above, and the small coat of arms, which is the same, but without the branches.
The meaning of the lion sis not very clear. In 1925 the lions were described by Leopold Raudkepp as :
One lion symbolises the courage of the fight for freedom in ancient times. The second stands for the courage in the uprisings in Harjumaa in 1343. The third represents the courage of the Estonian fight for freedom between 1918-1920.
The wreath of oak leaves stands for the perseverance and strength of Estonia and the evergreen traditions of freedom.
Until the creation of the Republic of Estonia, the coat of arms did not exist as a national emblem. The shield with three blue lions was used for the first time as the corporate seal of the association of Tartu and Viru vassals in 1284. Later it became the coat of arms of Estonian chivalry, used after the loss of chivalry status in 1920, during the first period of independence of the Republic of Estonia.
The coat of arms of Estonian chivalry also served as the coat of arms of the Province (Guberniya) of Estonia from 1721-1917.
The three lions (leopards) also appear on the arms of Tallinn whose origin is noted to be in connection with the battle between the Danes and Estonians in 1219 below Tallinn.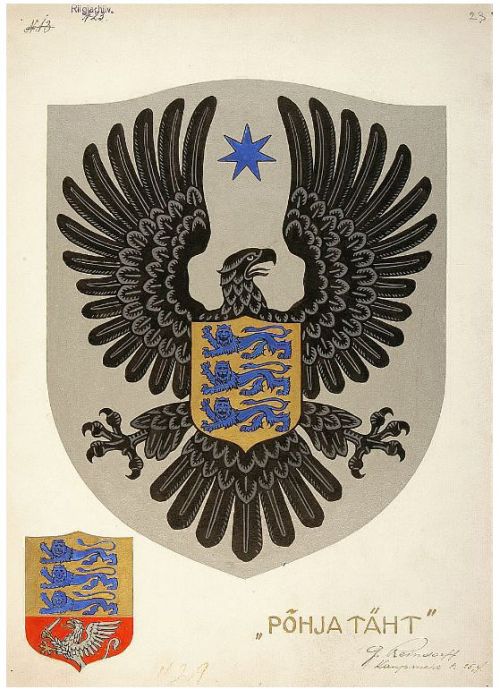 Alternative coat of arms of Estonia, 1922. Author Günther Reindorff (source).
The arms were in use from 1925 until the beginning of the Soviet occupation on June 21, 1940. On October 1, 1940 a new logo was introduced, based on the logo of the Soviet Union, see below.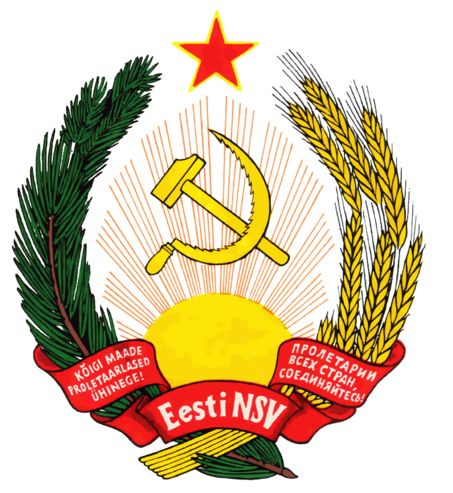 On May 8, 1990, the Supreme Soviet of the Estonian SSR declared the designation "Estonian Soviet Socialist Republic" invalid and the logo became obsolete. On August 7, 1990, the 1925 symbols (arms and flag) were re-introduced and properly described on October 16.
| | |
| --- | --- |
| The arms on a Danish cigarette card, 1920s | The arms on a coin from the 2001 |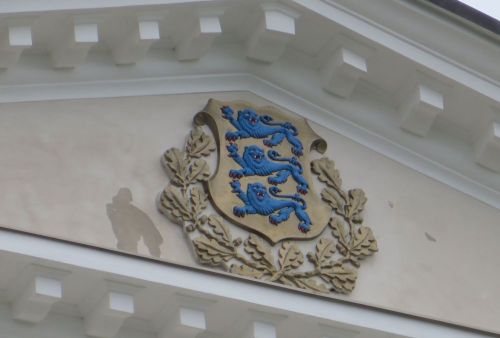 The arms on a government building (image Dominique Sinopolli)