Groningen (provincie)
Jump to navigation
Jump to search

GRONINGEN
I: 30 december 1947
" Gevierendeeld: I en IV in goud een dubbele adelaar van sabel, dragende op zijn borst een schildje van zilver, beladen met een dwarsbalk van sinopel; II en III in zilver drie linkerschuinbalken van azuur, vergezeld van elf schuingeplaatste harten van keel 1,4,4,2. Het schild gedekt met een gouden kroon van vijf bladeren en vier paarlen en ter wederzijde gehouden door een leeuw van goud. "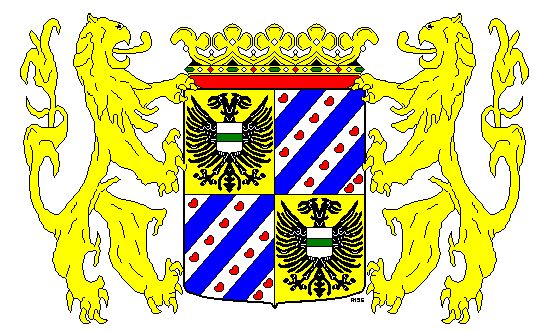 Oorsprong/verklaring
Het wapen van de provinvie Groningen is opgebouwd uit het wapen van de stad Groningen en het wapen van de Ommelanden.
De huidige provincie Groningen omvatte enerzijds de gelijknamige stad, en anderzijds de (Friese) boerengemeenschappen, die zich tegen de stad (en andere machthebbers) verzetten. Dit gebied omvatte overigens ook een gedeelte van het huidige Duitsland. Karel de Stoute trachtte in de 15e eeuw het gebied te onderwerpen, maar de Duitse keizer benoemde het tot rijksonmiddellijkheid (dwz direct onder gezag van de keizer). Karel de Stoute moest toen afzien van zijn idee om koning der Friezen te worden. De scheiding tussen Friesland en Groningen was daarmee een feit. Dat hield ook in dat er een nieuw wapen moest komen voor het huidige Groningen. Het oude wapen van Frieslân (Friesland) was immers niet meer geschikt.
Dit nieuwe wapen is waarschijnlijk gebaseerd op het oude Deense wapen. De legendarische Friese koning Radboud zou van Noordse (hier Deense) afkomst geweest zijn. De Deense koningen zouden het wapen van Radboud vermeerderd hebben met een leeuw (zie het wapen van Denemarken). Deze vermeerdering werd daarom ongedaan gemaakt. Het wapen, voor het eerst vermeld in 1475 vertoonde drie zilveren schuinbalken op een veld van blauw, met op de blauwe balken 9 harten van rood. In de loop der volgende eeuw werden de harten op de zilveren balken geplaatst en de schuinbalken werden de linkerschuinbalken.
Het is opvallend dat dit zeer bekende Friese symbool dat in Friesland als vlag is opgenomen, maar in Groningen in het wapen staat. Eigenlijk is het nooit het symbool geweest voor het huidige Friesland !
Het wapen werd gebruikt als wapen voor de gehele Ommelanden en sinds de 16e eeuw ook gebruikt op penningen en munten. Het wapen voor de gezamelijke Staten van Groningen en de Ommelanden werd in 1598 ontworpen, en bestond uit een combinatie van het oorspronkelijke wapen van de stad (een dwarsbalk) en het wapen van de Ommelanden. Echter in 1600 werd het oude stadswapen vervangen door het nieuwere wapen met de adelaar. Dit wapen is sindsdien ongewijzigd. In de 17e eeuw zijn de schildhouders voor het eerst afgebeeld.
English
"Quarterly; I and IV or, a double-headed eagle displayed sable; on his chest a small shield argent, a fess vert; II and III argent, three bends sinister azure, between eleven hearts gules, placed one, four, four and two, bendwise. The shield crested by a coronet of four pearls between five leaves or. Supporters: two lions rampant or."
Groningen is a province in the North of the Netherlands. The arms are a combination of the arms of the city of Groningen and the so-called Ommelanden. The Ommelanden (meaning something like surrounding countryside) were independent of the city and part of Frieslân (Friesland).
In 1476 Friesland was divided and the Ommelanden became a territory under direct government of the Emperor. Therefore new arms were necessary. The arms were derived from the National Arms of Denmark. The legendary Frisian King Radboud had his origins in Denmark and the Danish kings used the same arms with an additional lion. The arms without the lion were therefore the old Frisian arms.
In 1598 the arms of the city and the Ommelanden were combined when the whole territory became one of the Dutch States.
In 1600 the arms were changed to its prsent form.

Literatuur: De Vries, 1995
---
Nederlandse heraldiek:
(Dutch only/alleen Nederlandstalig)

Total pages in the Dutch section : 12,871
Total images in the Dutch section : 9,625

Colonial heraldry:
(English)

Dutch heraldic collector's items
(selection, see also categories on the left)
---
Support the site:
Contact us:
Our partners:
---
© since 1995, Heraldry of the World, Ralf Hartemink